STORY HIGHLIGHTS
CNN's Brian Byrnes reports on Argentina's efforts to promote bamboo sustainability
The life-giving plant plays a significant role in capturing carbon emissions
Environmentalists say teaching sustainable forestry practices is key to slow climate change
Tigre, Argentina (CNN) -- I am riding in a small boat along the banks of the murky Parana River and I feel lucky. Lucky that the rain finally subsided and the sun has come out in Argentina, and lucky that my job occasionally puts me into situations like this, where I get to spend a gorgeous morning island-hopping in the pursuit of a story.
I am in Tigre, Argentina to film a story for CNN's "Going Green" week, a series of reports that myself and other CNN correspondents around the globe will be presenting to highlight and examine efforts underway to combat climate change worldwide.
Explainer: What's at stake in Copenhagen?
My story is about bamboo, one of the planet's fasting growing and abundant plants, which also plays an important role in capturing carbon emissions. Argentine environmental officials are hoping to rectify poor harvesting practices here so that bamboo will be properly cultivated, allowing it to maximize both its commercial and environmental appeal.
Riding along with myself and cameraman Eduardo Aragona this morning is Leticia Villalba, the Environmental Secretary for the town of Tigre, as well as scientist Rodolfo Cassol and Alonzo Gazz, a 21-year-old Tigre resident who makes a living as a bamboo worker.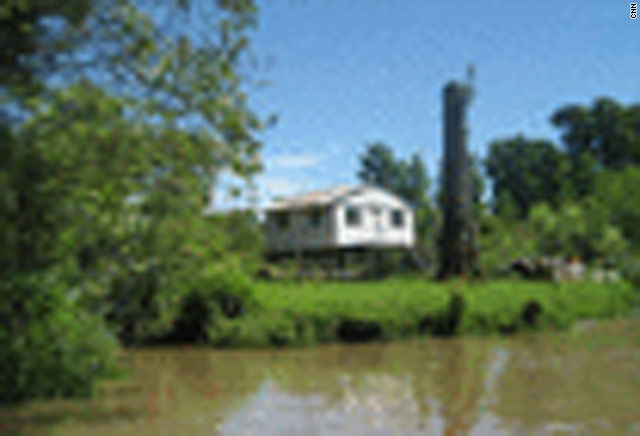 Gallery: Bamboo sustainability
"We want to train the local population to manage bamboo in a sustainable way.
--Leticia Villalba, Tigre's Environmental Secretary
They are taking us to various islands within the Parana River Delta to show us native bamboo plants, as well as to demonstrate the correct way to cut them down, something that many locals have never been taught to do.
Have your say at COP15 -- Join the CNN/YouTube debate
Cassol tells me that for decades workers here have always used crude hatchets to fell the bamboo plants, a practice that often causes them to splinter, stunting the regeneration process and sometimes even killing the plants all together.
"The bamboo has shrunk because we haven't known how to cut it correctly. That has slowed growth and dried it out," says Gazz.
When Gazz pulled out a chainsaw a few minutes later, I have to admit, I was a bit surprised. I have always thought of chainsaws as noisy instruments of destruction that burn gas and down countless trees, but it turns out that the clean, even cut of a chainsaw actually helps bamboo re-grow wider in diameter and taller in length, which in turn increases its capacity to absorb harmful carbon gases.
A recently-launched Argentine government program is teaching these techniques to workers like Gazz in the hope that the country's bamboo plants will realize their full potential. Here in Tigre, there are free workshops and subsidies for workers to purchase more modern tools, like chainsaws.
The Province of Buenos Aires recently inked a research, development and promotion deal with the China National Bamboo Research Center. Al Gore visited Tigre a month ago and discussed bamboo-based projects with Mayor Sergio Massa.
"We want to train the local population to manage bamboo in a sustainable way. This will increase production and profits, and also capture more carbon. So we'll be helping our residents and the planet," says Villalba.
As we cruised around the island inlets, Villalba explained to me that bamboo is a way of life in Tigre, a part of its cultural heritage. It is used to build houses and boat oars and to make fishing rods and fences. Later, when we walked around Tigre's outdoor market, I saw scores of items like torch lamps, rocking chairs, baskets and bowls all made from bamboo.
Environmental experts say that teaching sustainable forestry practices in areas like Tigre is key to helping slow climate change. They discussed the topic at the XIII World Forestry Congress that took place in Buenos Aires in October.
More than seven-thousand people took part, where they brainstormed for viable deforestation solutions. I was there as well, interviewing various people within the forestry world and looking for ideas. The congress is where I first learned about the bamboo initiatives underway in Argentina. Obviously, I'm happy that I decided to go.
One of the main issues being talked about at the gathering was how the current global economic crunch is affecting environmental stewardship. When I spoke with the director of the WWF's International Forests division, Rodney Taylor, he had some intriguing things to say.
"We are seeing companies fundamentally re-thinking the way they do business. The whole idea of sustainability is much more at the forefront of corporate thinking, and that for us is a huge opportunity," says Taylor.
Famed conservationist Dr. Jane Goodall made her first trip to Argentina and attended the forestry congress. When I sat down with her for an exclusive interview, she was optimistic about the future -- she works hard to educate kids around the world with her Roots and Shoots program -- but didn't have many good things to say about how leaders are dealing with climate change.
"I think we are doing an absolutely lousy job, to be honest. The forests are continuing to disappear, whether it's from poverty and people desperate to grow food or having exhausted their own land, chopping down the last of the trees creating a desert," Goodall told me.
On the river in Tigre, most seem to agree that the situation needs to improve if bamboo is going to continue to thrive here. Changing the way this life-giving plant is cultivated will be a logistical and cultural challenge, but as far as I can tell, the locals seem to be up to the task.