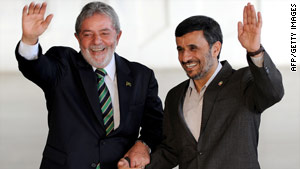 Brazilian leader Luiz Inacio Lula da Silva, left, greets Iranian President Mahmoud Ahmadinejad in Brasilia on Monday.
STORY HIGHLIGHTS
NEW: Visit "doesn't help Brazil's image," ex-U.S. State Department official says
NEW: Hundreds in Brazil protest Iranian President Mahmoud Ahmadinejad's visit
Iran trying to bolster ties with sympathetic nations as others try to curtail its nuclear ambitions
Ahmadinejad also to visit Bolivia, Venezuela, Senegal
(CNN) -- Iranian President Mahmoud Ahmadinejad and Brazilian counterpart Luiz Inacio Lula da Silva signed a series of agreements Monday after the controversial Iranian leader arrived at the first of three Latin American nations he will visit this week.
Ahmadinejad already visited Gambia on a five-nation trip that also will take him to Bolivia and Venezuela in South America and Senegal in Africa.
Accompanied by 200 Iranian business leaders, Ahmadinejad hopes to strengthen economic ties with the five countries. But he also aims to bolster political ties with sympathetic governments as he tries to counter U.S. and European efforts to curtail Iran's nuclear ambitions.
Ahmadinejad also wants to improve Iran's image after the brutal repression of demonstrators who objected to the disputed June presidential election. Ahmadinejad won re-election, but many Iranians believe the elections were deeply flawed.
Iranian officials said last week that five people had been sentenced to death and another 81 received prison terms of up to 15 years for their roles in the protests, in which at least 17 people were reported killed. On Sunday, it was disclosed that former Iranian Vice President Mohammad Ali Abtahi had been sentenced to six years in prison on charges that he tried to foment unrest to overthrow the government.
"Ahmadinejad wants to go wherever he's accepted and he wants to be lionized," said Robert Pastor, a national security adviser for President Carter in the late 1970s.
"I can understand why Ahmadinejad would go to Brazil and Bolivia and Venezuela," Pastor said. "What I can't understand is why Brazil would want to welcome him. Clearly, Brazil wants to be a major player in world affairs, but to do so requires some awareness of international relations."
It was a point made by analysts Monday.
"It's a mistake," said Bernard Aronson, the U.S. assistant secretary of state for inter-American affairs from 1989 to 1993. "They think it shows their independence but it actually shows their political immaturity. It doesn't help Brazil's image around the world."
Christopher Garman, an analyst with the Eurasia Group consulting firm, said Brazil has a long record of trying to develop relations with non-aligned countries and has had ties with Iran for many years.
"I would not characterize this as an anti-U.S. stance by Brazil," Garman said.
"But," he said, "Brazil will increasingly have to develop a well-thought-out and coherent foreign policy. Brazil is not going to be able to take controversial positions without paying a price for it."
In the first visit by an Iranian head of state to Brazil, the two nations signed a series of economic and commercial accords Monday as well as agreements on cultural, scientific and technological exchanges.
Trade between the two nations totaled more than $1.5 billion in 2007, mostly from Iranian imports. Ahmadinejad, whose country faces a United Nations-sponsored trade embargo over its nuclear program, is reported to want to increase trade to $15 billion.
His visit to Brazil was not universally well received. About 1,000 demonstrators expressed their displeasure Sunday in Rio de Janeiro over Ahmadinejad's positions on a variety of issues, most notably human rights and his denial of the Holocaust that killed 6 million Jews during World War II. Protesters turned out again Monday.
Lula da Silva has rejected criticism of his meeting with Ahmadinejad, saying that nations must find diplomatic solutions and not isolate Iran over its nuclear program.
Aronson said that type of foreign policy carries a responsibility, too.
"The United States should challenge Brazil to speak out on issues such as human rights and [nuclear] proliferation," he said.
Lula da Silva has taken an interest in the Middle East, hosting Israeli President Shimon Peres and Palestinian Authority President Mahmoud Abbas in the past few weeks. He even suggested Monday holding a soccer game with Brazilians playing against a joint Israeli-Palestinian team as way to show that all sides can get along.
While Lula da Silva is considered moderately leftist but pragmatic, Bolivian President Evo Morales and Venezuelan leader Hugo Chavez are hardcore anti-American ideologues. Ahmadinejad will find kindred spirits when he visits them this week.
"Iran gravitates toward any anti-American regimes in Latin America," Aronson said, calling the Iranian leader's visit to the two nations "a sideshow."
"They'll dress it up with economic cooperation, but there's not a lot really there," he said.
Morales, the first indigenous president of Bolivia, welcomes the recognition Ahmadinejad's visit lends his country, former national security adviser Pastor said.
"Evo Morales sees himself as being on the margins and trying to be accepted," Pastor said. "He represents a constituency that has long struggled to be accepted in the mainstream. He brings that same perception to the international theater -- that Bolivia should be recognized."
Iran's alliance with Venezuela presents a bigger threat to U.S. national interests.
"Today, Mr. Ahmadinejad and Venezuelan President Hugo Chavez have created a cozy financial, political and military partnership rooted in a shared anti-American animus," Manhattan District Attorney Robert M. Morgenthau said in a September column in the Wall Street Journal.
In a visit to Iran in September, Chavez highlighted a series of joint ventures, including the construction of ethanol plants in Venezuela and gas exploration in Iran by Venezuela's state-run oil company. He also said he aims to build a "nuclear village" with Iranian help.
In October, Chavez said Iran was helping to find uranium in Venezuela.
The Carnegie Endowment for International Peace estimated in December that Venezuela could have 50,000 tons of unmined uranium. Brazil also has a nuclear program and is said to sit on one of the world's largest uranium reserves.
While some analysts believe Chavez could want to eventually export uranium to Iran, it might not be technically feasible.
"It's like everything Chavez does," Pastor said. "It's more symbolic than real."
Brazil also is not likely to export uranium to Iran, Aronson said.
"That would be a bridge too far," he said. "It would be too high a cost."
Chavez has been to Iran eight times. Lula da Silva said Monday he will travel there next year.
"That compounds the mistake, which is really regrettable," Pastor said.