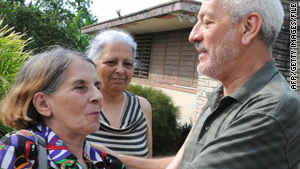 Nine Cuban dissidents have been holed up for 36 days in the home of Vladimiro Roca Antunez, right (pictured in June).
STORY HIGHLIGHTS
Group of Cuban dissidents have started a liquid-only fast at a house in Havana
Dissident vowed that the remaining nine protesters in the house will continue their protest
Anti-dissident protests at the house are "acts of repudiation," government says
"We are demanding our rights as Cubans," one dissident says
(CNN) -- Cuban dissidents holed up in a Havana house for 36 days started a liquids-only fast this week that led a doctor to order one of them to go home for health reasons, one of the protesters told CNN on Friday.
The doctor ordered another protester -- the only one who had been on a full hunger strike since the fast began on Wednesday -- to start drinking liquids, protester Lazaro Yuri Valle Roca said in a telephone interview.
The dissident vowed that the nine people remaining in the house will continue their protest.
"We remain firm in our decision and our disposition is to go forward," Valle Roca said.
Asked what they are protesting, he said, "We are demanding our rights as Cubans."
An official with the Cuban diplomatic mission in Washington did not return a call from CNN on Friday. The nation has been run by Fidel Castro and his brother, Raul, for 50 years. Civil liberties are severely restricted and a noted Cuban blogger, Yoani Sanchez, reported she was roughed up by plainclothes government agents last week.
"They're doing something quite risky," author Ann Louise Bardach said of the dissidents. "They can all go to jail now for a long time."
One of the protest leaders is Vladimiro Roca Antunez, who is the son of former Communist leader and Cuban Revolution icon Blas Roca. Lazaro Yuri Valle Roca is Vladimiro Roca's nephew. Blas Roca died in 1987 at age 78.
Bardach, whose book "Without Fidel: A Death Foretold in Miami, Havana, and Washington" was published last month, said dissidents 20 and 30 years ago were called counterrevolutionaries, people opposed to Castro who usually had not been part of his government. That has changed, she said.
"Here they are, some of them the sons and daughters of leading Cuban revolutionaries," she said. "These are really the children of the first guard."
The dissidents have been staying inside Vladimiro Roca's house since October 9. They call themselves "plantados," planted ones, because they are holding a type of sit-in at the house.
Cuban authorities have set up a perimeter several blocks from the house and do not allow anyone who does not live in the neighborhood to enter, Valle Roca said. Authorities have not allowed food or medicine into the house, the dissident said.
Under pressure from diplomats, Cuban authorities allowed a doctor into the house Thursday night, Valle Roca said. He would not identify the physician by more than his first name, Ricardo.
In addition, crowds of government-supported demonstrators have surrounded the house, yelling insults and taunts at those inside, Valle Roca and his uncle told reporters in telephone interviews.
Valle Roca said he was attacked with a rock on Wednesday when he was trying to go to the store with his uncle.
"They cut my head open in two places," he said Friday.
Castro's government has called the anti-dissident protests at the house "acts of repudiation." Vladimiro Roca said the most recent protests are like none he's ever encountered.
"I've seen many acts of repudiation, but I've never seen an act of repudiation as dirty as this," he told CNN affiliate MegaTV. "There's hate, violence, repression, terror."
Another noted dissident planted at the house, economist Martha Beatriz Roque Cabello, suffered a broken finger from a recent attack, dissidents said.
I've never seen an act of repudiation as dirty as this. There's hate, violence, repression, terror.
--Vladimiro Roca Antunez, dissident leader
Roque Cabello, 64, is said to be suffering from diabetes and heart problems. The doctor examined her and found to be stable, Valle Roca said. A report Thursday by a dissident support group in Puerto Rico said she had fainted several times and needed help getting around.
Angel W. Padilla, who started the group Disidente Universal de Puerto Rico in 1983, called the sit-in "a dignified and necessary act" by Cubans for Cubans.
"The change is inside Cuba," he said. "The government is inside Cuba."
But noted scholar Louis A. Perez Jr., who has written a dozen books on Cuba, said the dissidents are not having much impact.
"It appears they are at the margins of Cuban daily life," Perez said. "It doesn't seem to penetrate deeply into daily life."
Cubans, he said, are too deeply immersed in the hardships of everyday living to pay attention to politics.
Perez said a Cuban friend recently told him, "First the necessities, and later democracy."
In addition to Vladimiro Roca, Valle Roca and Roque Cabello, the Disidente Universal group identified the other protesters as Zoila Hernandez Diaz, Elizabet de Regla Alonso Castellanos, Eriberto Liranza Romero, Yasmany Nicles Abad, Georgina Noa Monte, Armando Rodriguez Lamas and Yuniet Reina Hernandez.
The dissidents told Reina Hernandez, 24, to go home after the doctor diagnosed a bacterial kidney infection, Valle Roca said.
Niclas Abad, 21, was told to stop his hunger strike and start drinking liquids, said Valle Roca.