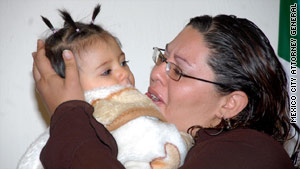 Vanesa Edith Castillo Guzmán is reunited with her daughter Diana Fernanda Castillo.
STORY HIGHLIGHTS
Authorities: Doctors, hospital personnel would tell parents that babies had died
Three others accused of buying children, registering them as their own
One abducted baby has been reunited with mother, officials say
Mexico City, Mexico (CNN) -- Mexican authorities have arrested three doctors, a nurse and a receptionist accused of stealing newborns at a private hospital and selling them, the Mexico City attorney general's office says.
A married couple and a woman also were arrested on charges that they bought two newborn girls and registered them as their own offspring, said Luis Genaro Vasquez Rodriguez, an official with the attorney general's office.
The doctors and hospital personnel would tell parents from whom the children were stolen that their babies had died, authorities said Wednesday.
One of the abducted babies, Diana Fernanda Castillo, has been reunited with her biological mother. Authorities who found the baby and confirmed her identity through genetic tests handed her over to her mother, Vanesa Edith Castillo Guzmán, on Thursday.
Authorities said they arrested Drs. Victor Manuel Mancera Gonzalez, 74; Jorge Adalberto Guerrero Bustos, 55; and Alfredo Ortiz Rosas, 52. Nurse Maria Guadalupe Castro Morales, 58, and receptionist Leonel Rodriguez Mondragon also were arrested, the attorney general's office said in a statement posted on its Web site.
All the suspects were charged with trafficking in minors, using false documents and organized crime.
Other suspects arrested were married couple Antonio Merino Hernandez, 46, and Maria de la Luz Ruiz Padilla, 39, as well as psychologist Cinthia Nayeli Perez Ortiz, 37, officials said. In both cases, authorities said, they were sold babies born in Mexico City's Hospital Central de Oriente.
According to the Mexico City attorney general's office:
Castillo told officials that her daughter was born at 5:11 p.m. October 25, 2008. She never saw her but heard her cry. The mother repeatedly asked Ortiz Rosas to let her see her daughter, but he told her it would be later, once she recovered from the anesthesia and Caesarean section surgery she had undergone.
Later, Mancera Gonzalez told Castillo that her baby had been taken to the "Moctezuma" Infants Hospital. The next day, Ortiz told her, "Your daughter died. There was nothing that could be done for her. She was born with insufficient respiratory ability. I tried to save her, but she died." He also told her the body had been cremated.
Castillo asked the doctor for the baby's ashes or at least a death certificate October 27, and he replied: "I already told you. She died. I took her to be incinerated. There's nothing more to talk about or do. The documents are on the way."
She later received an e-mail from the clinic owner's son in which he told her that her daughter was alive. "Dr. Ortiz placed her with a family and, of course, received a lot of dough," the e-mail said.
The man who sent the e-mail and other witnesses were interviewed, and all said the baby was sold to a couple who lived in the San Vicente municipality in Mexico state.
That's how investigators arrested Ruiz Padilla and Merino Hernandez, who said they adopted the girl. Authorities believed that she was the Castillo's baby, but genetic tests proved that she wasn't.
The couple said the then-7-month-old girl was given to them in April, and she was the daughter of a woman who lived in the Tlalnepantla municipality in the state of Mexico.
They said they never met the biological mother, and their friend gave them signed documents legally turning the girl over to them.
The couple needed help registering the girl as their daughter, and that's how they met Mancera Gonzalez , who charged them 12,000 pesos (about $900).
The continuing investigation led officials to Perez Ortiz, who bought a baby girl for 15,000 pesos ($1,120) in November 2008 and registered the child as her daughter with documents provided to her.
Perez Ortiz told investigators that she first got in touch with another doctor five years ago, telling him she could not have children. The doctor, who is a fugitive, told her he could get her a baby from pregnant women who in many cases would abandon them or wished they would die.
The doctor told her he would persuade the mothers to keep the babies until 6½ months of pregnancy so he could remove them and inject them with a medication to mature their lungs and hearts. Then he would find couples or women who could not have children.
He told the psychologist she would have to pay 10,000 pesos ($750) up front and the remaining 5,000 pesos ($375) when he gave her the baby.
The woman did as told, but the doctor did not come through until late September or early October 2008, when he contacted her to ask whether she was still interested.
A while later, he told her to meet him at the "Puebla" metro station, where he gave her the baby girl. He also gave her a birth certificate showing that the girl had been born at Hospital Central de Oriente.
Genetic tests proved that this was Castillo's daughter.