NEW YORK (CNN) -- The United Nations General Assembly is expected to elect five nations to the Security Council on Thursday, marking the first time since 2004 that the seats are uncontested.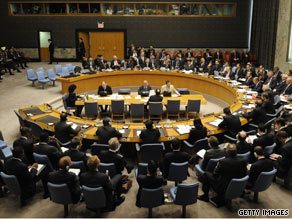 Five new counties will be elected Thursday as nonpermanent members of the U.N. Security Council.
The five countries -- Brazil, Gabon, Lebanon, Nigeria, and Bosnia and Herzegovina -- are expected to be chosen as nonpermanent members of the Security Council for two-year terms starting January 1.
Council elections are conducted by secret ballot in the General Assembly, and winning candidates require a two-thirds majority of ballots of members present and voting.
The five countries will join Austria, Japan, Mexico, Turkey and Uganda, whose terms on the 15-member body end at the end of next year. The five permanent members are China, France, Russia, the United Kingdom and the United States.
The Security Council's primary responsibility is to maintain international peace and security. While other U.N. bodies make recommendations to governments, the council alone has the power to make decisions that member states are obligated to carry out.
E-mail to a friend

All About United Nations Security Council