WASHINGTON (CNN) -- Defense Secretary Robert Gates acknowledges that closing the U.S. military prison at Guantanamo Bay, Cuba, will likely take longer than planned.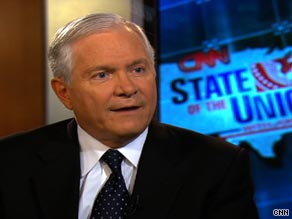 Defense Secretary Robert Gates said it may take longer than expected to close Guantanamo prison.
"I think it has proven more complicated than anticipated," Gates said in an interview broadcast Sunday on CNN's "State of the Union."
Noting he had pushed for a firm deadline of January 2010 for closing the controversial facility, Gates said: "If you have to extend that date, if at least you have a strong plan showing you're making progress in that direction, then this -- it shouldn't be a problem to extend it and we'll just see whether that has to happen or not."
In a separate interview on the ABC program "This Week," Gates said closing the military prison on schedule would be "tough."
Also on ABC, Republican Sen. John McCain of Arizona said he attended briefings in which he was told the Guantanamo facility was unlikely to close on schedule.
"Apparently they're certainly not going to make that deadline," McCain said. "But we should continue to work towards the closure of Guantanamo Bay because of the image that it has in the world, of brutality, [which] harms our image very badly."

Watch Gates discuss Guantanamo prison, Afghanistan on CNN »
Two senior administration officials told CNN on Friday that the Guantanamo facility was unlikely to close by the deadline set by President Obama. They cited legal complications for the delay, but said they were still optimistic about shutting the facility soon.
The delay represents a blow to Obama, who signed an executive order during his first week in office in January to set the deadline for closing the facility.
Republican opponents are calling for Guantanamo prison to keep operating, rather than having terrorism detainees brought to U.S. soil.
Sen. Christopher Bond, R-Missouri, said on "FOX News Sunday" that if Guantanamo prisoners transferred to maximum-security prisons in the United States got seriously ill, they would be sent to a prison hospital facility in Missouri.
"My constituents and I think that would be a very bad idea," Bond said.
On the same program, Democratic Sen. Dianne Feinstein of California said the terrorism suspects would be held in maximum-security prisons.
"No one is going to put these people in anyone's neighborhood, as some have tried to say," Feinstein said.
She said she would accept Guantanamo prisoners moving to California.
"In a maximum-security prison, I don't worry about it, provided the prison is set up to accommodate it, and I believe we have facilities that are," she said.
Meanwhile, senior administration officials insisted the White House is making progress in finding third-party countries to accept detainees who remain at the prison.
On Saturday, the U.S. Justice Department announced that two detainees at the Guantanamo facility had been transferred to Ireland and a third to Yemen. They were approved for transfer after an interagency organization called the Guantanamo Review Task Force performed "a comprehensive review" of the cases, according to the Justice Department.

More than 220 detainees remain at Guantanamo. Since 2002, more than 550 detainees have departed the facility for other countries.
The countries include Albania, Algeria, Afghanistan, Australia, Bangladesh, Bahrain, Belgium, Bermuda, Chad, Denmark, Egypt, France, Iran, Iraq, Jordan, Kuwait, Libya, the Maldives, Mauritania, Morocco, Pakistan, Portugal, Russia, Saudi Arabia, Spain, Sweden, Sudan, Tajikistan, Turkey, Uganda, the United Kingdom and Yemen.
E-mail to a friend

All About Guantanamo Bay Detention Center • Robert Gates • Barack Obama