MEXICO CITY, Mexico (CNN) -- The number of drug-related killings in Ciudad Juarez, Mexico, so far this year has reached 1,647, surpassing the death toll for all of 2008, a city spokesman told CNN.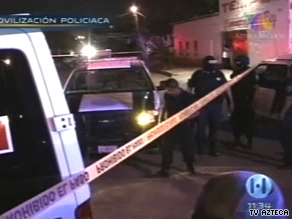 Police gather at the rehab facility where 17 people were killed in Ciudad Juarez, Mexico, in early September.
A spate of killings since the weekend, including 12 on Tuesday, pushed this year's death toll higher than the 1,607 recorded murders for last year, spokesman Sergio Belmonte told CNN.
Killings in Juarez, located across the border from El Paso, Texas, began to spike in early 2008, when the Sinaloa drug cartel began a turf war with the Juarez cartel.
In response, President Felipe Calderon sent federal troops to patrol the city. About 7,500 troops will remain in Juarez at least for another six months at the mayor's request, officials said.
The army presence has helped curb the violent daylight shootouts that damaged the city's image and threatened its economy, but killings and reprisals among street-level dealers continue to mount, Belmonte said.
On Monday, 635 new police officers graduated from the police academy and joined the ranks of a force that had been thinned by about 700 in the city's effort to root out corrupt cops.
The police department is now up to more than 2,600 officers, Belmonte said. Another 400 cadets are expected to join the force in October.
Officials hope that the larger police force, together with investments in police equipment and a new crime-stoppers phone system, will turn things around for the city.
More than 5,100 have been killed in drug-cartel violence across Mexico this year, according to a tally by the newspaper El Universal.
E-mail to a friend

All About Mexico • Ciudad Juarez • Felipe Calderon • Murder and Homicide