GUATEMALA CITY, Guatemala (CNN) -- Guatemalan authorities said they arrested seven men Friday in connection with the May 10 slaying of lawyer Rodrigo Rosenberg, who left behind a videotape saying that if anything happened to him, President Alvaro Colom would be responsible.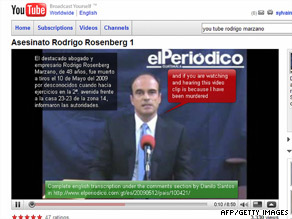 Rodrigo Rosenberg's video says that if anything happens to him, he has been murdered.
Colom has denied any involvement.
Three of the suspects will be charged with murder, and the other four are accused of belonging to the criminal gang that carried out the crime, said Carlos Castresana Fernandez, the head of a U.N.-Guatemalan commission set up to investigate corruption and political violence.
Authorities were planning to arrest nine suspects but were forced to move early, Castresana said at a news conference. He did not elaborate, saying the investigation continues.
Still being sought is whoever gave the order to kill Rosenberg, said Colom's press secretary, Ronaldo Robles. Castresana declined to say who may have been behind the assassination, again citing the ongoing nature of the investigation.
He also declined to comment when asked whether Colom, his wife or any of his functionaries may have been involved. Rosenberg had mentioned the others in his video.
Robles said he did not know the alleged motive.
William Gilberto Santos Rivas, 30, a former member of the national civil police, was the ringleader and was arrested, Castresana said.
Also arrested, he said, were: national civil police officer Mario Luis Paz Mejia; army member Lucas Santiago Lopez, 25; gang member Samuel Giron Cobar, 27; Jose Armando Ruano Gaitan, 24; Balmore Guzman Orellana, 25; and Edwin Fidelmo Lopez.
Castresana said video surveillance cameras in the neighborhood where Rosenberg was killed captured images of the vehicle used in the killing, which led authorities to the suspects.
Investigators also identified 12,000 calls made on a suspect's cell phone before and after the slaying and used that information to make the arrests, Castresana said.
The U.N. official called the suspects paid hitmen and said they also are involved in drug trafficking, money laundering, kidnapping and extortion.
Rosenberg was shot and killed on a Sunday while riding a bicycle in Guatemala City. The next day, a video surfaced in which Rosenberg, calmly seated behind a desk and speaking into a microphone, linked Colom and an aide to his death.
"If you are watching this message," Rosenberg says on the video, "it is because I was assassinated by President Alvaro Colom, with help from Gustavo Alejos," the president's private secretary.
Rosenberg mentions a third person who he believes would have been involved in his assassination and mentions those three as well as the president's wife in connection with two killings the previous month.
In a broadcast to the nation the night that the video surfaced, Colom denied any connection.
"We categorically reject the accusations that pretend to tie the president, first lady and private secretary as those responsible for this assassination," Colom said.
A dated and signed transcript of the video's content indicates that Rosenberg made the recording a few days before his death. It surfaced after his funeral and was posted on YouTube and distributed to other media outlets by the newspaper El Periodico de Guatemala.
Rosenberg's video said he was targeted because he talked about the deaths of one of his clients, prominent businessman Khalil Musa, and Musa's daughter in April. They were killed, Rosenberg said, because they had refused to participate in acts of corruption as the president wanted.
Rosenberg said he had been speaking out about his belief that Colom and others were behind the slayings. He was killed the day before he was scheduled to make some media appearances to talk about his suspicions.
E-mail to a friend

Journalist Alexia Rios and CNN's Arthur Brice contributed to this report.
All About Guatemala • Alvaro Colom