MEXICO CITY, Mexico (CNN) -- Mexican security screeners should have spotted the bomb-like device a hijacking suspect carried onto the commercial airliner he allegedly commandeered a short while later, the head of the nation's public safety agency said Thursday.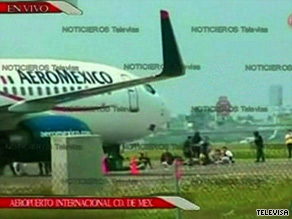 Military personnel surround a hijacked Aeromexico jet after it landed Wednesday in Mexico City.
A 44-year-old Bolivian former drug addict and alcoholic who now works as a preacher is accused of hijacking the Boeing 737-800 AeroMexico jet Wednesday by telling a crew member he had a bomb, officials said.
The jet landed safely in Mexico City, where the suspect was arrested and the 104 passengers and seven crew members were released unharmed.
The suspect, Jose Flores Pereira, told reporters at a news conference after his arrest he did not have a bomb, just colored lights attached to a can.
Mexico's public safety secretary, Genaro Garcia Luna, said Thursday that screeners at the Cancun airport should have detected the device.
"What he brought as a suitcase had to have been reviewed by X-rays and, without a doubt, it is something that should have been detected and detained because it had cables, it had a type of digital clock that made it look like an illegal device," Garcia said. "Without a doubt, there was a failure to detect."

Read timeline of events »
Investigators will reconstruct the route the suspect's suitcase took at the Cancun airport, Garcia said, according to the state-run Notimex news agency.
He said Flores' actions and movements before the incident also will be investigated, though there is no indication he had any contact with organized crime or any similar activity.
Flores told authorities he hijacked the jet because the date -- September 9, 2009, or 9/9/9 -- was 666 upside down and held significance for him, Garcia said Wednesday. Some Christians see 666 as the sign of the anti-Christ.

Watch CNN's Rick Sanchez report on the hijacking as it unfolded »
"He said that because of that divine reference he wanted to alert Mexico City of an earthquake," Garcia told reporters. He added that Flores had been convicted of armed robbery in Bolivia, had lived in Mexico for 17 years and had gone to Cancun from Mexico City the week before to attend a religious meeting.
Flanked by two police officers, the suspect, wearing a white shirt and blue jeans, was paraded in front of the news media just a few hours after the incident. Chewing gum, he smiled.

Watch AeroMexico passengers being released »
"Christ is coming soon," he told reporters before being escorted off.
Flores' wife, speaking with CNN by telephone from their home in the southern Mexican city of Oaxaca, said her husband had been looking for a way to get his message about God to the news media.
"He never wanted to hurt anyone," said Elisa Melgar, 38, the mother of their three sons and his wife of 18 years.
"As his wife, I support him," she said, adding that her husband had not touched alcohol or drugs for the past 17 years. "He's a man who was transformed by the power of God."
A video posted on YouTube shows the suspect singing that God had saved him from a life of drug addiction.
E-mail to a friend

All About Mexico