MEXICO CITY, Mexico (CNN) -- Mexican officials say the theft of cash, computers and other household goods was the motive for the weekend slayings of a legislative candidate, his wife and two children, the state-run Notimex news agency said.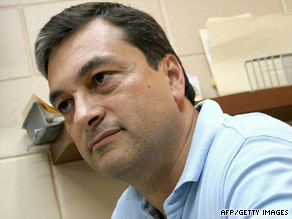 PRI candidate Jose Francisco Fuentes Esperon was killed, along with his wife and their two sons.
Officials announced the arrests of three suspects and said a fourth was being sought in Saturday's killings, Notimex reported late Sunday. One of the suspects is 18 years old and another is a juvenile, Tabasco Governor Andres Granier Melo said at a news conference.
The bodies of Jose Francisco Fuentes Esperon, his wife and two young sons were found inside their home in the state capital of Villahermosa on Saturday.
The juvenile suspect conceived and planned out the crime, authorities said. The 18-year-old, identified as Ricardo Hernandez Rodriguez, worked as an overnight security guard in the neighborhood where Fuentes and his family lived, officials said. Police said they found incriminating receipts in a pocket of Hernandez's pants, which he left at the guard station. According to officials, Hernandez bought ski masks, duct tape and T-shirts at a local store.
The criminals used the duct tape to bind the two children after breaking into the house, Notimex said.
Officials say the suspects then killed the candidate and his wife before loading computers, cell phones, cash, video games and other goods into a vehicle described as a Hummer and driving away. Authorities found the vehicle abandoned at a nearby park. Inside the Hummer, police found a handgun and ski masks.
Hernandez said in a videotaped statement that "everything went out of control" and that he did not mean to kill the family, Notimex said.
The slayings brought campaigns for statewide offices in the southeastern state of Tabasco to a halt.
Fuentes' party, the Institutional Revolutionary Party, or PRI, immediately announced a campaign moratorium for all of its candidates for the state's October 18 elections. Other political parties followed suit.
"The PRI cannot go out at this moment and ask citizens for their vote when it finds itself with a broken heart because of the homicide of its candidate," Tabasco PRI director Adrian Hernandez Balboa said, according to Notimex.
In response, the Tabasco state government offered all political candidates protection during their campaigns if they request it, a statement from the governor's office said.
Mexican President Felipe Calderon called Granier, the Tabasco governor, to offer his condolences and show his support for the investigation, the statement said.
The weekend slaying was not the first time an entire family has been killed in Tabasco.
In February, a Tabasco police official who had arrested a drug trafficker a week earlier was killed together with his mother, wife, children and nieces and nephews. His brother, also a state police officer, was wounded, as were two others.
The day before Fuentes and his family were killed, unknown gunmen fatally shot two state police officers in Villahermosa and injured two others.
E-mail to a friend

All About Mexico • Murder and Homicide • Institutional Revolutionary Party • Felipe Calderon