TEHRAN, Iran (CNN) -- Venezuela will begin exporting 20,000 barrels per day of gasoline to Iran next month as the nations strengthen bilateral cooperation, according to Iranian state media and the Venezuelan government.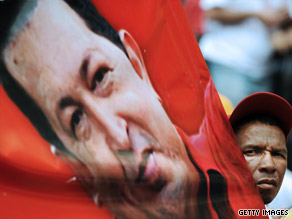 Venezuelan President Hugo Chavez reportedly said he aims to build a "nuclear village" with Iranian help.
Iranian President Mahmoud Ahmadinejad and his Venezuelan counterpart Hugo Chavez announced the agreement Sunday. It will begin in October, according to Iran's Press TV and a Venezuelan government statement. Chavez said Iran will pay about $800 million a year for the gasoline.
Iran produces 60 percent of its domestic gasoline demand and imports the remaining 40 percent, Press TV reported. Despite having large oil reserves, Iran lacks the refining capacity to cover all of its internal gasoline consumption.
The leaders had said on Saturday that they plan to stand up against "imperialist" foes -- a reference to the United States and other nations opposing Iran's nuclear program -- by cooperating on a range of issues, including nuclear power.
"Expansion of Tehran-Caracas relations is necessary given their common interests, friends and foes," Ahmadinejad said after a meeting with Chavez, according to Iran's semiofficial FARS news agency.
Chavez arrived in Tehran on Saturday with a team of high-ranking officials for a two-day visit.
Chavez reiterated the goal: "Tehran and Caracas should help revolutionary nations through further expansion and consolidation of their ties."
Venezuela announced a new agreement with Iran for a joint geological study in the South American country's Andean belt, the state-run ABN news agency said.
Chavez highlighted bilateral projects already under way, including the construction of ethanol plants in Venezuela and gas exploration in Iran by Venezuela's state-run oil company.
On Saturday, Chavez hinted of future projects as well.
The Venezuelan president said he aims to build a "nuclear village" with Iranian help in his country, according to Press TV. The details of such a plan were unknown.
Chavez backed Iran's claims that its nuclear ambitions are for peaceful purposes.
"There is not a single proof that Iran is building ... a nuclear bomb," Chavez said after the leaders met, according to Press TV. "Soon they will accuse us also of building an atomic bomb."
The visit was Chavez's eighth to Iran and the first since Ahmadinejad's disputed re-election.
Chavez's trip follows visits to Libya, Algeria and Syria. He will visit Belarus and Russia before returning to Venezuela.
E-mail to a friend

All About Hugo Chavez • Mahmoud Ahmadinejad