From Rey Rodriguez
CNN





MEXICO CITY, Mexico (CNN) -- Mexico has fired more than 700 customs agents and replaced them with better-trained and educated workers who officials hope will be less likely to give in to the temptation of bribery and other crimes.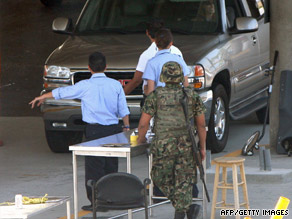 Cars cross the border into Mexico at the customs post in Tijuana on Monday.
The new agents were trained by the army to detect the smuggling of weapons, drugs, pirated products and other items, which has increased in recent years due to corruption. But Mexican Department of Customs officials were quick to point out that the military is not taking over at the nation's 49 customs posts.
"They are not military," said Customs Chief Juan Jose Bravo. "They are practically professional, most of them in outside commerce, in similar careers, who are qualified to work in customs matters."
All the new agents underwent psychological exams, drug screenings and background checks, Mexican officials said.
The new recruits are between the ages of 18 and 30; 65 percent are men and 35 percent are women.
Authorities also want to improve the Customs Department's image. The department is part of the Federal Mexican Government Ministry of Commerce and Industrial Development.
"Of course, the outside perception held by many about officials, and particularly this group, was of high corruption," Bravo said. "We did this, fundamentally, because we wanted to professionalize new training with a new plan."
But some security experts believe that replacing the customs agents will not resolve the problem of corruption.
"It's been perfectly demonstrated that that changing people can be absolutely futile if the structures keep functioning the same way," said Ernesto Lopez Portillo, executive director of the Institute for Security and Democracy. "Because the structures, the protocols, the systems are what allow people to comply with regulations."
E-mail to a friend

All About Mexico