By George Webster
For CNN






(CNN) -- A new international survey on marital deceit has revealed that spouses are most likely to mislead each other over their whereabouts.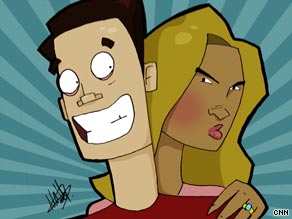 The survey, conducted by Reader's Digest and published in the magazine's September edition, asked readers from 15 countries to declare what issues they have lied to their partner about.
Overwhelmingly, "my whereabouts" was the most popular response, with 14 of the 15 countries placing it top of a list which included touchy topics like sex, money, and "the kids".
Russian men are most disposed to hiding their tracks, with 67 percent admitting they had lied to their wife about it, according to the survey. However, in a possible clue to why Russian divorce rates are highest among countries polled, Russian women fared little better -- 58 percent giving the same response.
This compares with an average of 39 percent of Americans, 45 percent of Australians, 47 percent of Indians and 56 percent of Brits. Italy is the most scrupulous nation -- only 33 percent have lied about their location.
For Peggy Northrop, Global Editor-in-chief of Reader's Digest, the findings are unexpected:
"In this day and age of being overly-connected, it was surprising to learn that the majority of people surveyed across the board still think they can get away with lying about their whereabouts." She told CNN.
Malaysia is the only nation to place money above whereabouts -- 68 percent of men and 42 percent of women have not been entirely up front about the bank balance, the survey said.
In much of the world sex is far less a source of deception than many would assume. In the UK only 5 percent of men and 7 percent of women have lied to their spouse about sexual conduct, while in the U.S the overall average is just 8 percent.
However, other European nations are a little more flexible with the truth when it comes to sex.
Italians add to their amorous reputation: 23 percent of those surveyed have lied to their partner about bedroom exploits. They are trumped only by Germans, 25 percent of whom have not been totally candid on the topic.
Though the findings could point toward a global trend of married couples leading double lives, British psychologist and author Dr. Rob Yeung offers a more sober perspective.
"Money, sex, and the children are such big topics that it's a more fundamental breach of trust to lie about them," he said.
"Most spouses believe that they deserve complete honesty about the family's finances, their current and past sexual relationships, and matters concerning the children. However, there is comparatively less significance attached to one's whereabouts, and so it's much easier to lie about."
E-mail to a friend