(CNN) -- The remittances that emigrants send back to Latin America and the Caribbean, an important component of the gross domestic product for many countries in the region, will decline more than 10 percent this year, a new report says.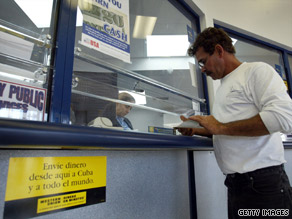 Money received in Latin America and the Caribbean from the U.S. is expected to fall 11 percent.
The global economic downturn is the force behind the decrease, which will affect about 4 million people across Latin America, says the report, released Wednesday by the Inter-American Bank's Multilateral Investment Fund.
The report estimates that the region will receive $62 billion in remittances this year.
The countries that most depend on remittances, including Haiti, Nicaragua and the Dominican Republic, are the most affected, the report says. About one-third of those negatively affected live in Mexico.
The loss of remittances to Mexico, combined with factors such as oil production and exports, is having a significant effect on that country's economic outlook.
On Tuesday, Mexican Finance Minister Agustin Carstens said that a drop in oil production is expected to continue. And Mexican exports to the United States, another key driver of the country's economy, have been affected by the economic crisis.
More than 1,300 Latin American emigrants living and working in countries around the world completed a survey as part of the Inter-American Bank study.
"The crisis is clearly limiting migrants' capacity to send money home," Inter-American Development Bank President Luis Alberto Moreno said in a statement.
"Nevertheless, remittances have decreased less than other private financial flows to the region as migrants continue to make sacrifices to provide for their families."
The survey found that emigrants are taking a number of measures to cope with the economic crisis.
Many said they are reducing expenses, looking for new or second jobs, or moving to a cheaper house, according to the report.
Those sending money back home are doing so less often and in smaller amounts than before, the study found.
The average amount sent per transfer dropped to $230 from $241, the report says.
Money received in Latin America and the Caribbean from the United States is expected to fall 11 percent this year to about $42.3 billion, according to the report.
Remittances from Europe, meanwhile, are estimated to decrease by 14 percent from last year to about $9 billion, and remittances from the rest of the world will fall about 4.5 percent to $10.4 billion, the report says.
E-mail to a friend

All About Mexico • Latin American Economy