RIO DE JANEIRO, Brazil (CNN) -- A Brazilian TV host denies authorities' charges that he orchestrated the murders of drug dealers and other criminals to generate sensational footage for his show.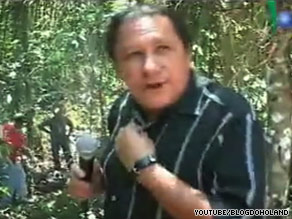 TV host Wallace Souza is accused of ordering hits on criminal rivals and then covering the deaths for ratings.
Wallace Souza, a state legislator and former host of a police TV show called "Canal Livre," also was a drug trafficker, officials say. And to get rid of the competition -- and drive up ratings -- he would order that criminal rivals be killed and then would have his camera crews arrive first on the scene, authorities say.
"In truth, they went as far as creating acts," said Thomas Augusto Vasconcelos, intelligence secretary for Amazonas state. "It's been determined that the crimes were committed in order to generate news for the program."
Souza has denied the accusations, and his lawyer has criticized key testimony and questioned the investigation.
"In all the investigations carried out by the public minister and the police, up to now they have not presented any technical evidence of any type," attorney Francisco Balieiro said on Brazilian TV.
State officials say Souza faces charges of forming a criminal gang, corrupting testimony, drug trafficking and illegal possession of firearms. He remains free because of legislative immunity, officials say.

Watch report on Souza's former show, charges he faces »
State Attorney General Otavio Gomes told the Agencia Folha news outlet that Souza's gang has been linked to six slayings. But prosecutor Pedro Bezerra told the news outlet he could not bring murder charges against Souza for lack of concrete evidence.
The Amazonas State Justice Tribunal, which held a hearing on the accusations, said the criminal complaint was based on testimony by former Souza associate Moacir Jorge da Costa. After Jorge's arrest, he talked about the gang's reputed activities, including slayings.
Souza's lawyer, Balieiro, said police and public ministry officials did not have standing to investigate the TV show host because he is a legislator. Furthermore, Balieiro said, Jorge's testimony was obtained in an irregular manner.
According to the state public minister, who brought the charges against Souza, the legislator's son, Raphael, belonged to the criminal gang. Raphael Souza has been convicted of homicide, drug trafficking and illegal gun possession.
Fifteen people connected with Souza, among them police officers and a chief, have been arrested.

Souza, a former police officer who left the force more than 20 years ago after being implicated in a fuel theft case, received the most votes of any candidate in the last election in Amazonas state. His TV show went off the air last year after the investigation into his possible criminal involvement intensified.
He lives in the jungle city of Manaus, the capital of Amazonas state, a region of Brazil known for its prevalent lawlessness. Souza would often rail on his lunchtime show about the killings and other atrocities being committed in the area.

E-mail to a friend

Journalist Fabiana Andrea Frayssinet contributed to this report
All About Brazil • Drug Trafficking