(CNN) -- Two Peruvian police generals face homicide charges and 15 officers face other criminal charges stemming from the June 5 clash between police and indigenous demonstrators that left at least 34 dead, a top state prosecutor told CNN.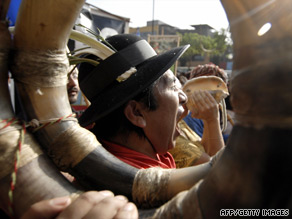 A man shouts slogans at a demonstration in Lima against the Garcia government on June 11.
The charges, the first against police since the controversial incident in the northwestern city of Bagua, were filed by a regional prosecutor on August 7, head prosecutor Oswaldo Bautista Carranza said,
None of those charged were being detained, Bautista said.
The charges are the first step in the legal process against the officers who led and participated in the operation to end a highway blockade by demonstrators. A judge will now decide whether to admit the charges or reject them.
Under Peruvian law, that ruling must come down within 15 days of the filing, or by August 22, Bautista said.
The generals were identified as Javier Uribe Altamirano and Luis Elias Muguruza, the newspaper El Comercio reported.
The June 5 violence started when national police attacked a roadblock near Bagua. About 2,500 indigenous people had blocked the main road to protest measures the government has taken to sell land to energy companies and other businesses. Indians native to the area say that is their land even though they don't have formal property titles.
In the aftermath of the clash, Congress voted overwhelmingly two weeks later to repeal the two presidential decrees that the indigenous groups had said would result in their lands being exploited.
Last month, President Alan Garcia named a new prime minister and replaced several Cabinet members, a shake up in response to the outrage over the incident.
E-mail to a friend

CNN's Mariano Castillo contributed to this report.
All About Peru • Alan Garcia