MEXICO CITY, Mexico (CNN) -- Mexican federal police say they arrested 34 men suspected of belonging to a ruthless drug cartel blamed for a rash of violence that left at least 18 federal agents and two soldiers dead since July 11.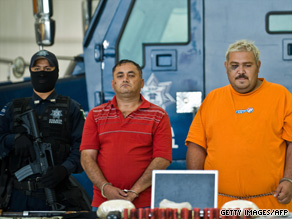 Alleged drug traffickers Miguel Angel Beraza Villa, middle, and Rafael Hernandez face the press Monday.
Officials said the suspects belong to La Familia Michoacana drug gang, which drew national attention when it was accused of torturing and killing 12 off-duty federal agents three weeks ago. The bodies of the 11 men and one woman were found dumped on a road.
Some of the 34 suspects were arrested at a family celebration Sunday at a church in the city of Apatzingan in Michoacan state, said the federal secretariat for public safety. Another was arrested in the city of Lazaro Cardenas, also in Michoacan.
Two of the men were put on display for the media Monday in Mexico City.
One of the two, Miguel Angel Beraza Villa, known as "La Troca," was responsible for delivering crystal amphetamine to the United States, federal police official Ramon Eduardo Pequeño Garcia said at the nationally televised presentation. Troca is the Spanglish word for truck.
About a half-ton of meth, known on the street as ice, was delivered to the United States each month, Pequeño Garcia said. The drugs would cross the border from Tijuana, Mexico, into San Diego, California, then go on to Los Angeles; and from Juarez, Mexico, across the border to El Paso, Texas, and then on to Houston, Texas, and Atlanta, Georgia, the federal official said.
Two or three shipments a week were transported aboard trailers loaded with fruit from Michoacan, in western Mexico, the federal police said.
Officials say Beraza Villa worked with about 40 men divided into three teams: a group that transported the drugs from Michoacan to the border, a second team that smuggled the drugs across the border and a third squad that received the shipments and sold the drugs in the United States.
The arrests at the church were carried out by more than 200 agents who used two Black Hawk helicopters, an airplane and two armor-plated vehicles. No shots were fired, but religious officials complained Monday that the arrests at a church showed a lack of respect.
Authorities said they confiscated 11 luxury vehicles, two heavy weapons, 12 fragmentation grenades, 30 cell phones and $13,000.
The second suspect introduced to the press Monday was Rafael Hernandez Harrison, also known as Salomon Figueroa Harrison or "La Cuchara" ("The Spoon"). He is accused of being in charge of extortion and coordinating La Familia Michoana meth labs.
Hernandez Harrison is believed to have joined La Familia two years ago, after a rival drug gang killed his brother for not paying an extortion demand.
He was carrying an AK-47 assault rifle at the time of his arrest, federal police said.
Authorities said they also confiscated three semi-automatic rifles, five fragmentation grenades, 115 rounds of ammunition, six handguns and a credential identifying him as a permanent observer for the State Commission on Human Rights.
Federal police have arrested at least 10 members of La Familia, including some top leaders, since the July 13 killings of the 12 federal agents. The killings were among a series of reprisals by La Familia after the federal police captured one of their top leaders, authorities said.
In another series of anti-drug efforts elsewhere in Mexico, a joint operation by the military and federal agents led to the arrest Sunday of nine municipal police in Paraiso, in Tabasco state. Arrests in six Tabasco cities last week resulted in the arrests of another 21 local police, media reports said.
An unprecedented wave of violence has washed over Mexico since President Felipe Calderon declared war on the drug cartels shortly after coming into office in December 2006. More than 10,000 people have died in that time span, about 1,000 of them were police.
E-mail to a friend

All About Mexico • Mexico City • Illegal Drugs • Felipe Calderon