From Elise Labott
CNN State Department Producer





WASHINGTON (CNN) -- The State Department on Tuesday said it revoked four visas -- and is reviewing all others -- of people serving in the de facto Honduran government that ousted President Jose Manuel Zelaya last month.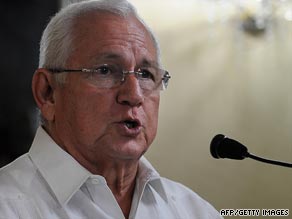 A State Department spokesman said the U.S. does not recognize Roberto Micheletti as Honduras' president.
The four individuals who had their visas revoked currently serve in the government of Roberto Micheletti, but had originally received the documents as representatives of Zelaya.
The diplomatic visas, called "A-1" visas, allowed them to travel to the United States on official government business. The action also applies to their families.
State Department spokesman Ian Kelly called the move "consistent with our policy of the nonrecognition" of the de facto government.
"We don't recognize Roberto Micheletti as the president of Honduras. We recognize Manuel Zelaya," Kelly said.
He said the United States is supporting efforts by Costa Rican President Oscar Arias to bring an end to the political standoff that escalated after the ouster of Zelaya on June 28. The United Nations and the Organization of American States condemned the coup and have called for Zelaya's reinstatement.
Don't Miss
The U.S. move comes on the heels of a letter by Zelaya to President Barak Obama in which he asks the U.S. leader to ratchet up diplomatic and economic pressure on the Micheletti regime, including canceling visas of leaders of the de facto government and freezing their bank accounts.
The United States has already suspended some programs but has not instituted a full suspension of aid pending a review of the situation. Kelly said the United States is currently "reviewing all of our bilateral programs with Honduras."
E-mail to a friend

All About U.S. Department of State • Honduras