(CNN) -- Deposed Honduran President Jose Manuel Zelaya on Monday gave the interim government that ousted him an ultimatum: if ongoing negotiations do not restore him to power, he will consider the talks failed and resort to other means.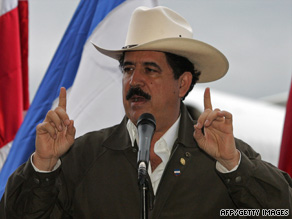 Deposed Honduran President Jose Manuel Zelaya says he must be returned to power.
Zelaya's remarks came at a news conference in Managua, Nicaragua. He did not elaborate on what other means he might explore.
The statement puts pressure on the next round of mediation between the two sides, expected to take place Saturday in Costa Rica.
Zelaya demanded that "the explicit mandates of the international organizations be carried out," referring to resolutions passed by the Organization of American States and United Nations calling for his return as president.
Since the June 28 military-led coup, Zelaya and interim Honduran President Roberto Micheletti have drawn hard stances. Both claim that the democratic process is on their side.
Both Micheletti and Zelaya accepted an offer from Costa Rican President Oscar Arias to mediate talks. Both men met individually with Arias last week, but they did not meet face-to-face.
Micheletti said Monday he expected talks between the two delegations to resume on Saturday in Costa Rica.
United Nations Secretary-General Ban Ki-moon spoke with Arias Monday and gave his support for his mediation efforts.
"The Secretary-General has offered technical assistance for the mediation and agreed to work together with President Arias to help the parties reach an agreement," a U.N. statement said. "The Secretary-General is confident that an open dialogue and international support will help resolve the current crisis."
Micheletti has adamantly denied there was a coup, insisting instead that Zelaya was ousted through a constitutional process in which the supreme court and the national assembly participated.
Zelaya, a leftist who took office in 2006 on a narrow victory, had been at odds with Honduran lawmakers, the country's supreme court and the military over a referendum he had planned to hold last month. Congress had forbidden it and the supreme court ruled it illegal.
Zelaya sought the referendum to see if voters wanted a measure on November's ballot to establish a constitutional assembly to study whether a president could run for re-election. Under the current charter, a president can serve only one four-year term.
Venezuelan President Hugo Chavez, a Zelaya ally, won a similar referendum this year and many Hondurans thought Zelaya was trying to maneuver a way to seek re-election in November -- an assertion he has denied.
Zelaya vowed to hold the vote anyway, but was toppled before the voting started.
After 18 years of nearly uninterrupted military rule, Honduras returned to civilian control in 1981. Since then, the military had not seemed interested in holding power in the nation of more than 7 million people, about 70 percent of whom live in poverty.
E-mail to a friend

All About Jose Manuel Zelaya • Roberto Micheletti • Honduras • Costa Rica