(CNN) -- At the request of the Colombian government, Interpol, an international police agency, has issued an alert for the arrest of a Mexican student linked to the Revolutionary Armed Forces of Colombia, or FARC.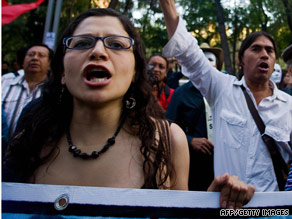 Lucia Morett (L) protests against Colombian President Alvaro Uribe in Mexico City on March 2.
Lucia Morett, 28, is wanted by Colombian authorities for organized crime, transnational crime and terrorism, according to Interpol's alert, known as a "red notice."
The notice is not an international arrest warrant but is an alert to police worldwide that she is wanted for extradition to Colombia.
Morett survived a March 2008 bombing in Ecuador by Colombian forces who were targeting a camp of FARC guerrillas.
The FARC's second-in-command, Raul Reyes, was killed in the bombing that Colombia's government viewed as one of the largest blows to the group.
Morett had returned to Mexico, but Colombian prosecutors consider her armed and dangerous.
Don't Miss
"What is happening against her seems absurd to us, and what she is facing with this order is basically extradition to Colombia," Morett's father, Jorge Morett, said at a news conference in Colombia on Thursday.
Morett ran as a congressional candidate in Mexico's July 5 elections, which would have given her parliamentary immunity from the Interpol order. But she did not gain enough votes.
The Mexican government had not received a formal petition for Morett's extradition, Mexico's Attorney General Eduardo Medina Mora, told reporters on Thursday.
E-mail to a friend

CNN en Español's Mario Gonzalez in Mexico and Fernando Ramos in Colombia contributed to this report