(CNN) -- Mediation efforts to resolve the political crisis in Honduras are expected to begin Thursday, Costa Rican President Oscar Arias said.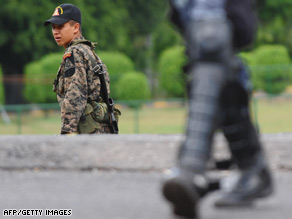 An anti-riot policeman, right, is shown walking near a soldier on Tuesday in Tegucigalpa, Honduras.
Honduras, a Central American country of about 8 million, has found itself isolated from the world since the June 28 military-led coup that removed and exiled President Jose Manuel Zelaya.
The Honduran Congress named Roberto Micheletti interim president, but his government has not been recognized by other nations.
Arias offered to form a mediation panel with representatives from four or five countries.
Arias, who won a Nobel Peace Prize for helping negotiate an end to Central America's civil wars in the 1980s, will mediate talks between Zelaya and Micheletti and offered his home as a meeting place, he said Tuesday.
Arias said he hopes that a resolution can be reached by the end of the meetings, slated for Thursday and Friday.
But what a resolution would look like is unclear, as both the ousted president and the provisional president have remained steadfast in their respective arguments that the democratic process is on their side.
Zelaya has argued that the coup was illegal and that he should be restored as the elected president of Honduras. The United Nations and the Organization of American States agreed and passed resolutions supporting his return. Many nations have withdrawn their ambassadors, and the United States and the World Bank have suspended some aid.
Micheletti and his supporters -- which include Congress, the Supreme Court and the military -- argue that Zelaya's ouster was not a coup. The courts had issued arrest warrants for Zelaya for constitutional violations, and the military simply carried the order out, Micheletti has said.
A congressional vote formally stripped Zelaya of his powers and installed Micheletti.
"Some things are not negotiable," Zelaya said Tuesday. Namely, "the restoration of democratic order and the deposed president."
Zelaya was in Washington to meet with Secretary of State Hillary Clinton and get support for his position. Micheletti sent a delegation of government officials and business leaders to Washington to explain their position as well.
Don't Miss
In addition to Zelaya and Micheletti and their delegates, the talks could include participants from four or five countries, according to Costa Rica's foreign minister.
In another development Tuesday, Interpol said it refused a request from the Honduran government that an arrest warrant be issued for Zelaya.
The international police agency said it declined the request because it "is strictly forbidden for the organization to undertake any intervention or activities of a political, military, religious or racial character. This prohibition is taken extremely seriously by Interpol."
In Lyons, France, Interpol said the arrest warrant, called a Red Notice, seemed politically motivated.
"The charges against President Zelaya of 'misuse of authority; usurpation of public functions; offenses against the system of government; and treason' were assessed as being of a political nature with no ordinary-law crime element."
The agency also noted that Honduran authorities had a chance to arrest Zelaya themselves.
"An Interpol Red Notice is a request to provisionally arrest a person for the purpose of extradition to the country concerned. According to media reports, a plane carrying President Zelaya was turned away from an airport in Tegucigalpa, where Honduran authorities would have been able to directly serve a national arrest warrant," the agency said in a release.

Watch the Honduran military block the runway »
"If the reports are accurate and the national authorities deliberately failed to carry out the arrest on their own soil, this would also attest to the existence of motives other than the promotion of international police co-operation."
Zelaya supporters continued to demonstrate Tuesday in Tegucigalpa, the nation's capital.
A 19-year-old man was killed Sunday and at least eight people were wounded when security forces fired guns and used tear gas on several thousand protesters who ringed the airport in anticipation of Zelaya's attempted return Sunday.

Watch Honduran protesters mourn teen's death »

After 18 years of nearly uninterrupted military rule, Honduras returned to civilian control in 1981. Since then, the military has not seemed interested in holding power in the nation of more than 7 million people, about 70 percent of whom live in poverty.
Military interventions were once common in Latin America, but civilian governments have held sway since the 1980s. Before June 28, the only other barracks revolt this decade was an unsuccessful 2002 coup attempt against Venezuela's Hugo Chavez, when the military displaced him but backed down days later and allowed his reinstatement.
E-mail to a friend

All About Honduras • Jose Manuel Zelaya