BUENOS AIRES, Argentina (CNN) -- Argentina's President Cristina Fernandez de Kirchner and her husband -- who was her predecessor -- have held power since 2003, and Sunday's midterm elections will prove pivotal to her hold on the presidency.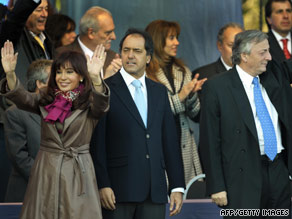 Argentina's First Couple flank Buenos Aires Gov. Daniel Scioli at a campaign rally in the capital Thursday.
Much depends on how Fernandez's husband -- and predecessor -- Nestor Kirchner fares in his race for a deputy's seat in the nation's lower house.
Even though he has not been in office since December 2007, some analysts say he remains the most influential political figure in the nation and the person who still makes most important policy decisions for his wife's government.
At stake Sunday are half of the seats in Argentina's lower house of Congress (127 of 257 seats) and one-third of the Senate posts (24 of 72).
Recent polls have indicated an extremely tight race, with the Kirchner Peronist Party expected to lose a large portion of the national vote and the majority it now holds in the lower house. It could even lose control of the Senate.

Watch more about the election »
"The overall outlook appears bleak from the government's perspective," said Daniel Kerner, an analyst with the Eurasia Group consulting firm.
Some Argentineans say a shift away from the Kirchners' populist policies could help the government fight crime, unemployment and inflation.
"They are used to six years of power," said Juan Caimari, an engineer. "They're accustomed to passing laws in Congress with ease, and now they are going to have to negotiate, which they have never done."
Article Correction
An earlier version of this story incorrectly stated that Cristina Fernandez de Kirchner has been president of Argentina since 2003. In fact Fernandez de Kirchner became president of Argentina in December 2007. Her presidential predecessor was her husband Nestor Kirchner, who assumed office in 2003.


Others want the Kirchners to stay and finish the jobs they were elected to do.

"I think the government needs to finish its mandates, and citizens need to demand they fulfill their promises," said artist Diana Lihovetzky.

By most accounts, it has been an interesting campaign full of surprises and last-minute turns.

The president said she moved the election up from October to June to get it out of the way, so she could concentrate on the global financial crisis. Critics say she did it to avoid blame before the economy worsened.

Television is also playing an important role, notably the nightly parody show "Big Brother-in-Law" that skewers politicians, Analysts say the program is proving highly influential, especially among poor voters.

In foreign policy, the Kirchners have been among the most vocal Washington critics in Latin American critics. Analysts say they may tone down the rhetoric after this election.

"I think that Argentina will try to play the honest broker between the two realities of Latin America," said analyst Enrique Zuleta Puceiro.

One reality, he said, is that of hard-core leftist Venezuela and Ecuador. The other reality is that of more pragmatic Brazil and Chile.

"The United States, and especially the Obama approach to politics, is familiar with this Argentine role in international politics," Zuleta said.

The Kirchners are dealing with billions in outstanding debt, ongoing conflicts with farmers and the press and lingering questions over government statistics.

All of the nation's 24 electoral districts will vote for the 127 seats at stake in the lower house of Congress. In the Senate races, one-third of the provinces will vote on their three seats to the upper house.

But all eyes will be on the province of Buenos Aires, where Kirchner is running. It is the nation's largest electoral district, accounting for more than one-third of Argentina's votes.

The slate of candidates headed by Kirchner was slightly ahead in most polls, but the race was tightening.

"A Kirchner loss is a catastrophe for the government, regardless of the outcome in the rest of the country," analyst Kerner wrote in a Eurasia Group report Thursday.

A loss, he said, would make it clear "that the couple's ability to be competitive in national elections has disappeared. Fernandez de Kirchner's power [would be] diluted and her ability to govern complicated."

In that case, Kerner gives Fernandez a 40 percent likelihood of resigning.
A Kirchner win, even by a slight margin, would make the "government feel emboldened and legitimized, even if it emerges weakened," the analyst wrote. "In this scenario, changes in economic policy or policymaking are even less likely."
E-mail to a friend

Journalist Brian Byrnes in Argentina and CNN's Arthur Brice contributed to this report
All About Argentina • Buenos Aires • Nestor Kirchner • Cristina Fernandez de Kirchner