MEXICO CITY, Mexico (CNN) -- Another child has died from last week's fire at a day care center in northwestern Mexico, bringing the death toll to 45, the state-run Notimex news agency said.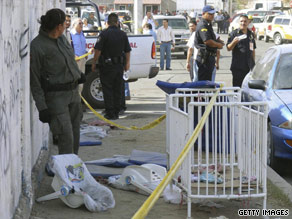 A crib and baby seats sit outside the scene of a deadly day care center fire in Mexico.
The child died Friday in a hospital in the city of Guadalajara, Notimex said. The news agency did not provide any additional information.
A fire raged through the ABC day care center on June 5 in the city of Hermosillo in Sonora state. Officials said an air-conditioning unit in a government-run warehouse in the same building as the day care center caused the blaze.
In another development Friday, three officials from the Mexican Institute of Social Security were fired, Notimex reported.
The social security institute oversaw the ABC day care facility.
Earlier, the Institute of Social Security removed its Sonora director, Arturo Leyva Lizarraga.
Leyva Lizarraga was "separated" from the agency Wednesday to "facilitate the investigative process," according to Notimex.
The same wording was used in announcing Friday's firings.
Don't Miss
Earlier in the week, two other people who ran the center resigned from the government jobs they held.
Also Friday, Mexican Attorney General Eduardo Medina Mora said officials had found safety irregularities at the day care center in 2005, Notimex said. He declined to detail those irregularities but said authorities are investigating if anything was done about them.
Any negligent officials will be punished once the investigation is completed, Medina said.
E-mail to a friend

All About Mexico