(CNN) -- Mexico's Institute of Social Security, which oversaw the day-care facility where 44 children died in a fire last week, removed its director in the state where the tragedy occurred, the state-run news agency Notimex reported.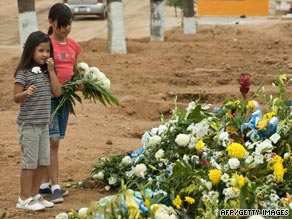 On Monday, two girls lay flowers during a funeral of one of the 44 children who died in the day-care fire.
Arturo Leyva Lizarraga, director of the agency in Sonora state, was "separated" from the agency Wednesday to "facilitate the investigative process," according to Notimex.
Earlier in the week, two people who ran the day-care center resigned from government jobs they also held.
Antonio Salido, a functionary for the state of Sonora's secretary of urban infrastructure, and Alfonso Escalante, a sub-secretary of livestock farming, said they resigned so that there would be no obstruction in the investigation into the cause of the fire.
At a news conference Wednesday, Mexican Attorney General Eduardo Medina Mora confirmed earlier reports that the cause of Friday's fire in the city of Hermosillo was an air-conditioning unit that overheated inside a warehouse used by the Sonora state government.
Don't Miss
Federal investigators concluded that the air-conditioning unit reached temperatures that caused bits of aluminum to melt from it and fall to the floor, landing on cardboard and paper, which then caught on fire, Medina said.
Smoke filled the warehouse and moved to the adjacent ABC Day Care facility. The two buildings shared a roof, which contained a false bottom made of polyurethane. That overheated, emitting toxic fumes, authorities said.
Hermosillo is the capital of the state of Sonora, about 200 miles (320 km) south of the U.S. border in northwestern Mexico. It has no hospitals that specialize in burns, so doctors here have been working to stabilize those most badly burned before sending them on for treatment in other cities.

E-mail to a friend

All About Mexico