By Arthur Brice
CNN




(CNN) -- The Venezuelan government has moved forcefully in the past two days against the only nationwide private TV broadcaster critical of President Hugo Chavez, staging a series of legal and police actions against the station and its owner.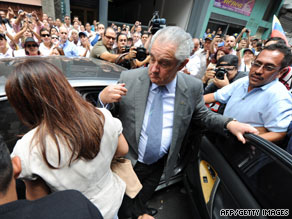 Globovision chief Guillermo Zuloaga gets in a car after a hearing Thursday in Cararas, Venezuela.
On Friday morning, Venezuelan officials arrived at the Globovision TV station to accuse the company of not paying about $2.3 million (5 million bolivares fuertes) in taxes for certain advertisements it aired in 2002 and 2003, the government reported on its Web site.
About 12 hours earlier, national guard troops and authorities from Venezuela's environmental agency staged a late-night raid on the Caracas home of Globovision President Guillermo Zuloaga, an avid hunter, to see if he had killed any protected prey, the TV station reported. The probe lasted until past 4 a.m. It was the second raid on Zuloaga's home in two weeks.
Zuloaga, who owns two Toyota dealerships, also was charged Thursday morning with overcharging on 24 cars he had sold and was storing on his property. Those vehicles were seized in a May 21 raid on the house.
Zuloaga denies the accusations, saying they are politically motivated.
"This is something to try to scare Globovision, to silence Globovision, something they are not going to achieve," Zuloaga said as he emerged from a hearing Thursday in which he was charged. "Let the government know that silencing or closing communication media is not a way to hide what is happening."
Fanny Marquez, the head of the government agency that accused Globovision of avoiding taxes, denied any "political character" to Friday's action. Chavez also has denied any political persecution against the broadcaster.
Others are not so sure.
The United Nations and the Organization of American States said in a joint release May 23 they are worried about Venezuelan government statements on Globovision that "generate an atmosphere of intimidation in which the right to freedom of expression is seriously limited."
Analysts point to a series of events in recent years in which government critics have been subjected to government probes or actions.
Another independent station that criticized Chavez, RCTV, lost its broadcast license two years ago. The station had to go off the public airwaves and transmit solely on cable.
More recently, two well-known political figures were charged with corruption.
Manuel Rosales, the mayor of Maracaibo, fled to Peru in late April after being charged with illegally enriching himself while governor of Zulia state. Rosales was a leading political opponent who lost the 2006 presidential race to Chavez.
A few weeks earlier, authorities arrested former Defense Minister Raul Baduel. He had played a key role in turning back a coup attempt against Chavez in 2002 but broke with him in November 2007 over constitutional changes that Chavez was proposing. Baduel had been a strong Chavez critic since.
Baduel, who also was the president's military general in chief, was arrested at gunpoint in front of his wife on April 2. It was Baduel's second arrest on charges that he stole $14 million from the armed forces.
Analysts uniformly see a pattern.
"The most prominent opposition figures now all have corruption investigations going on," said Jennifer McCoy, director of the Americas Program at the Carter Center. "There seems to be more than a coincidence that we're seeing charges leveled against most opposition figures and political rivals."
Richard Feinberg, a Latin America national security adviser for President Clinton from 1993 to 1996, says, "There's no question that Chavez routinely uses the vast powers of the state -- including tax collections and various government agencies -- to pinpoint and harass political opponents. There's a very clear pattern of abuse of state powers for political purposes."
Other groups also have accused Chavez of trying to quash opposition. A Venezuelan human rights group said Friday that Chavez has "criminalized" civil protests, pointing to the police killings of three demonstrators and the arrest of at least 50 protesters from January to April.
Courts and police "have been converted into instruments for the repression of protests," said a group called Venezuelan Education-Action Program for Human Rights.
"These days, protesting is a risk toward losing liberty," the group said in a news release.
Chavez has had a long, antagonistic relationship with TV stations, newspapers and other media, many of which have been harshly critical.
In their joint statement issued two weeks ago, freedom of expression investigators Frank LaRue of the United Nations and Catalina Botero of the Organization of American States said the Venezuelan government has stepped up its attacks on Globovision in the past month.
In recent weeks, authorities opened an investigation into whether Globovision broke the law May 4 when it reported about an earthquake before an official report had been issued on the matter.
"During the broadcast, the network's director noted that the quake had caused no serious damage and criticized the fact that official information had not been provided in a timely manner," LaRue and Botero said in the statement.
"Since that news report," they said, "Venezuela's highest-level authorities have publicly accused the privately owned media, and particularly Globovision, for resorting to 'terrorism' and 'hate speech' with 'destabilizing intent.'"
An agency that reports to Chavez began administrative proceedings against Globovision three days after the broadcast "on the grounds that the information provided to the public on the occasion of the quake could 'generate alarm, fear, anxiety, or panic among the population, giving individuals the feeling that they are in danger and without protection,'" the statement says.
It is the third government investigation of Globovision. A decision is expected soon. It could lead to the revocation of Globovision's license.
Other TV stations seemed to have gotten the message, a watchdog group said.
"Televen and Venevision hung on to their frequencies by adjusting their editorial line," the Reporters Without Borders press organization said in its 2009 World Report, referring to two national TV stations. "Globovision alone kept up its criticism of the government."
Venezuela criticized the U.N.-OAS statement, laying the blame on Globovision.
"We reject and condemn use of the name of such institutions as the U.N. and the OAS to attack member states while defending private monopolies that are accustomed to abuse of power and violating human rights," Venezuelan U.N. Ambassador Jorge Valero said shortly after the statement was released.
And Chavez personally has denied any political motives against Zuloaga.
Speaking on national TV after the raid two weeks ago on the broadcaster's home, Chavez said Zuloaga was violating the law with so many cars parked at the estate.
"The owner of the house at the same time owns a television channel," Chavez said. "They believe they are exempt from punishment because for them there are no laws. They start to say that Chavez is persecuting them. No, no, no. They are violating the law and we have to end impunity for all time."
The end result is undeniable, though, Reporters Without Borders said in its report.
"After years of 'media war,' Hugo Chavez and his government took control of almost the entire broadcast sector (in 2008)," the watchdog group said.
It doesn't stop with the media. Independent groups have said Chavez has systematically brought other institutions under his direct control, including the judiciary, congress, the central bank and the powerful state petroleum company.
"Hugo Chavez is committed to continue to take over various parts of the economy and as much of the media as possible," said Susan Kaufman Purcell, director of the Center for Hemispheric Policy at the University of Miami. "It's part of the whole trajectory in which he gains power with the democratic rules of the game and changes the democratic rules of the game.
"He wants to make sure there are no competitors, and any potential enclave of opposition gets destroyed."
E-mail to a friend

All About Venezuela • Hugo Chavez