By Arthur Brice
CNN





(CNN) -- U.S.-educated economist and socialist Rafael Correa became the first president to win re-election in Ecuador since 1972, a victory all the more astounding given that the three preceding presidents were ousted amid anti-government protests.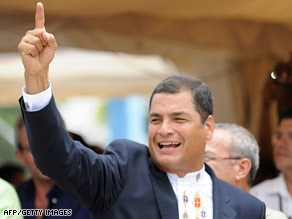 President Rafael Correa of Ecuador celebrates his re-election win Sunday in Guayaquil.
"We have made history in a country where from 1996 to 2006 no democratic government completed its term," Correa said in claiming victory a few minutes after the polls closed Sunday night. "We had seven presidents during that time."
Correa vowed to keep working for the common people.
"We are here for the poor," he said at a news conference in which he claimed victory. "We will never fail you. We will never fail you."
Official results were not available Sunday night, but the president's Web page said Correa had won 54.92 percent of the vote.
According to an exit poll by CNN affiliate Ecuavisa TV, Correa won 55.2 percent of the vote, leading former President Lucio Gutierrez by more than 25 percentage points and banana magnate Alvaro Noboa by 45 percentage points. Legislator Martha Roldos finished a distant fourth, with about 3 percent of the vote, the exit poll indicated.
Official results also were not available in elections for the 124-seat National Congress, where Correa's Alianza PAIS party was expected to do well and could win enough seats to control the legislative assembly. An exit poll cited by El Comercio newspaper said Correa's party had won more than 60 percent of the vote and could end up controlling the congress.
Gutierrez, who was president from January 2003 until fleeing the country amid a scandal in April 2005, declined to concede defeat and accused Correa of fraud.
"The whole country said, 'With Lucio we were better and with Correa we are worse,' " Gutierrez said.
He also indicated during a boisterous news conference he may run for president again in four years.
Some observers saw more than history at work for Correa, whom few people had heard of six years ago.
"In a country where the president ruled an average of 20 months, this gives the nation political stability," said analyst Patrick Esteruelas of the Eurasia Group, a global political risk research and consulting firm.
Esteruelas called Correa's re-election "one of the most remarkable political turnaround stories we have seen in Latin America," pointing to his rewriting of the constitution and discrediting of the opposition within two years.
"He's extremely charismatic and has unbelievable power of communication," Esteruelas said. "You may disagree with his policies, but he frames them so convincingly that most Ecuadorians are persuaded or fooled that he has all the answers."
Correa also has opened up the government spending taps in a country where 38 percent of the people are poor, Esteruelas said.
Another analyst sees a shrewd politician who has unified a base of support while his predecessors were unable to do so.
"He's aggressive. He has said what he wants to do, and he has actually gotten it done. He's an angry young man who anger works for," said Peter Hakim, president of the Inter-American Dialogue policy organization in Washington.
The 46-year-old Correa burst onto the national scene in 2005 when he was briefly finance minister for President Alfredo Palacio. Correa then ran for president in December 2006, narrowly defeating Noboa in a runoff.
When Correa took office in January 2007, he had been out of school for little more than four years.
After earning a bachelor's degree in Ecuador in 1987, Correa earned a master's degree in economics from the Université catholique de Louvain in Belgium in 1991 and master's and doctoral degrees in economics from the University of Illinois at Urbana-Champaign in 1999 and 2001, respectively.
In addition to Spanish, he speaks English, French and an indigenous language called Quechua.
By all accounts, Correa is his own man.
"Correa is an extremely odd fish," said Larry Birns, director of the Council on Hemispheric Affairs policy group. "No one can claim him as their own."
Correa's nationalism exceeds any ideological bent he might have, Birns said.
"Correa is as much of a socialist as other leftist leaders in Latin America," Birns said. "But at the same time, he is careful not to guillotine his relations with Washington."
Ecuador is among several Latin American nations that have elected leftist leaders recently, joined by El Salvador, Venezuela, Bolivia, Nicaragua, Argentina, Honduras, Guatemala and Brazil.
E-mail to a friend

All About Ecuador • Rafael Correa