BOGOTA, Colombia (CNN) -- The Colombian Marxist guerrilla group FARC announced Thursday it is releasing a soldier it has held hostage for more than 10 years, a Colombian senator who has brokered previous releases said on her Web page.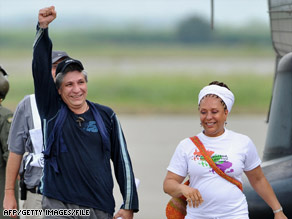 Sen. Piedad Cordoba, right, of Colombia accompanies former hostage Sigifredo Lopez in February.
No date was given for the release of Pablo Emilio Moncayo, an army corporal taken hostage in December 1997. Recent previous releases occurred more than two months after the announcement.
FARC, the Spanish acronym for Revolutionary Armed Forces of Colombia, said it would release Moncayo to a delegation headed by Sen. Piedad Cordoba and the hostage's father, Gustavo Moncayo.
Cordoba negotiated with the FARC for six hostages set free in February.
Speaking Thursday morning on CNN affiliate Caracol TV, Gustavo Moncayo said he had not been officially notified but was overwhelmed with emotion.
"I give thanks to God for a moment so infinite, so big," Moncayo said. "There came a moment when the emotion is so big that it clouds my mind, it clouds my feelings."
The guerrilla group, which has been waging war against the Colombian government since the 1960s, said it was releasing Moncayo in hopes of furthering a peace process. The FARC wants to broker the release of hostages and prisoners from both sides, the release said, but the government is insisting that the rebels unilaterally surrender.
Colombia has said the rebels are still holding about 700 captives.
The government has said the FARC's military force has been severely compromised in recent months, but authorities still accuse it of trafficking huge quantities of cocaine to finance its insurgency.
Security analysts said FARC has about 9,000 to 12,000 armed guerillas and several thousand supporters, mostly in rural areas.
The guerrilla group operates mostly in Colombia but has carried out extortion, kidnappings and other activities in Venezuela, Panama and Ecuador, analysts said.
E-mail to a friend