BOGOTA, Colombia (CNN) -- Daniel Rendon Herrera, Colombia's most-wanted drug kingpin suspect, was arrested early Wednesday, Colombian President Alvaro Uribe announced at a news conference.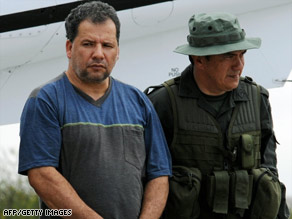 Police escort suspected drug kingpin Daniel Rendon Herrera, left, on Wednesday in Bogota, Colombia.
The government had offered $2.1 million, or 5 billion pesos, for information that would lead to the arrest of Rendon, also known as Don Mario. Officials said Wednesday that they will determine how that reward will be paid.
Rendon, who was captured in the Uraba region of northwestern Colombia, was transferred to the capital, Bogota, on Wednesday afternoon.
A live TV broadcast of his arrival at the Military Airport of Catam, on the outskirts of Bogota, showed a somber-looking Rendon being led off an airplane to a police van.
Rendon was wearing a two-toned, gray and blue shirt and gray pants, and his hands were bound in front of him with white plastic cuffs. The arrival was broadcast on CNN affiliate Caracol TV.
Uribe, whose news conference also was televised, said he learned of the arrest while meeting in Rio de Janeiro, Brazil, with Brazilian President Luiz Inacio Lula da Silva. The Colombian president called Rendon "one of the most feared narcotraffickers and criminals in the world."
The president's Web site also carried news of the arrest.
The United States had issued an extradition order for Rendon, whom 300 members of an elite police unit captured.
Thirty members of Rendon's gang were arrested with him, El Tiempo newspaper said on its Web site.
Authorities had been concentrating on Rendon's capture for the past nine months and moved undercover operatives into the area where he was hiding on April 6, Defense Minister Juan Manuel Santos said.
Authorities nearly captured Rendon twice in the past few months, but he escaped, Santos said at the military airport.
The suspect was found in the jungle, where he had been hiding for two days.
"He was virtually like a dog," Santos said.
Telephone intercepts, human intelligence and cooperation from the United States were crucial in Rendon's capture, El Tiempo newspaper said.
Santos also issued a message Wednesday to a cartel suspect he identified only as "El Cuchillo," the Knife.
"My message is that he give up, because he is next," Santos said. "We are getting close."
Rendon is the brother of the imprisoned Freddy Rendon Herrera, known as "El Aleman" (the German) for the efficiency with which he ran his drug operation.
E-mail to a friend

All About Colombia • Alvaro Uribe