By Roberto González Echevarría
Special to CNN





Editor's note: Roberto González Echevarría is Sterling Professor of Hispanic and Comparative Literature at Yale. His latest book in English is "Love and the Law in Cervantes" (Yale). He is also the author of "The Pride of Havana: A History of Cuban Baseball" and several books on Cuban literature.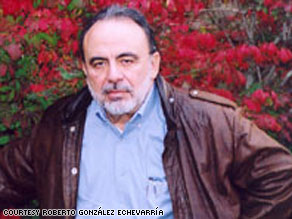 Roberto González Echevarría says U.S. relaxation of restrictions should prompt Cuba to act in kind.
NEW HAVEN, Connecticut (CNN) -- As President Barack Obama fulfills his campaign promises to ease restrictions on travel to Cuba, a unilateral move that seems to presage a further relaxation of tensions between the United States and Cuba, he should ask for reciprocal actions by the Castro regime.
The first should be that the Cuban government lift its restrictions on Cubans traveling to other countries.
Cubans are not free to leave Cuba. If they do so without approval they can be, and many have been, charged with "salida ilegal," or "illegal exit." There are at present hundreds of Cubans with visas to other countries who have not been issued the "white card" by the authorities allowing them to travel.
Latin American countries should make the same demand. There are many Cubans with valid visas to travel to them -- most notably Hilda Molina, the Cuban doctor who has for years been asking to go to Argentina to visit her family -- who have not been allowed to do so.
As the new measures will certainly have an impact on the tourist industry, President Obama is in a privileged position to demand the current apartheid practiced in Cuban hotels and other facilities be removed. Mostly whites work in those hotels, and blacks, particularly Cuban blacks, generally are not allowed in them.
Another move should be to resume normal postal service, so that the goods sent by Cuban Americans to their families do not have to go via specific companies licensed by Havana, at outrageous cost. This gouging creates the possibility of corruption on both sides of the Florida Straits at the expense of ordinary Cuban Americans.
Since more of them will now be traveling to the island, another measure to eliminate tensions among them and their relatives resident in Cuba, and in the spirit of conciliation, should be the abolition of the "Blas Roca Rapid Action Brigades." These are mobs under government employ whose task is to harass dissidents, like the Ladies in White, mothers and wives of political prisoners, or anyone suspected of being against the government.
These fascistic groups often gather in front of someone's house, and pelt it with eggs and stones while chanting insults to those cowering inside. Sometimes the abuse turns physical if they dare come out. These actions are called "acts of repudiation."
Don't Miss
Another promise of President Obama, recently reiterated by Vice President Joseph Biden, is that lifting the embargo will necessitate some improvement in human rights on the island. A significant first step would be the release of political prisoners. Independent journalists are rotting in hideous jail cells in Cuba for expressing their opinions.
With such a request, President Obama would best the writer Gabriel García Márquez, Fidel Castro's chum, who has not said a word about the imprisonment of his colleagues -- he has just been happy to round off his first 50 years of servitude. President Obama should also insist on a free press that can criticize the government without fear of reprisals.
Lifting the embargo would allow Cuba access to lending organizations such as the World Bank, which should be wary of Castro's history of nonpayment: The country has the largest per capita foreign debt in the world.
My apprehension about enacting policies that will improve economic conditions on the island is that they will only serve to strengthen the white, male gerontocracy's grip on power. In totalitarian regimes with no transparency or input by the people on the allotment of funds, history shows that the ruling class keeps the lion's share. Cuba is no exception.
The elite's privileges dwarf anything that earlier ones enjoyed. I was amused to read a statement by one member of the Congressional Black Caucus delegation that recently traveled to Cuba in which he said that Fidel Castro lives in a modest house with his family.
According to Juan Reinaldo Sánchez, a lieutenant colonel who was a member of Castro's bodyguard for 17 years and who defected to the United States, Castro occupies an elaborate complex that includes houses for his family and close associates, not to mention a key off Cuba's southern coast, with docks, yachts and helicopter pads that could favorably compete with those owned by villains in James Bond movies.
Fulgencio Batista, the dictator deposed by Castro who, by the way, was the only person of color to be president of Cuba, never boasted of anything resembling it. His "Cuquine" ranch was a joke by comparison. Besides, in spite of the current cliché about the embargo having failed, the fact is that whenever the Castro regime has enjoyed some solvency, it has invested in exporting revolution to other Latin American countries. In reducing Cuba's capability to spread revolution, the embargo has been a partial success.
I applaud this move by President Obama. Half a century is a long time, people want to see their families and help them in whatever measure they can, and since there is no periodic renewal of the government in Cuba, change being dependent only on the whims of biology, some relief is needed to ease the pain now, not whenever the inevitable finally happens.
The opinions expressed in this commentary are solely those of Roberto González Echevarría.
E-mail to a friend

All About Fidel Castro • Cuba • U.S. Congressional Black Caucus