SANTIAGO, Chile (CNN) -- Five days before world leaders meet in England for the G-20 Summit, Vice President Joe Biden is attending a two-day conference in Chile that includes seven Latin American and European heads of state.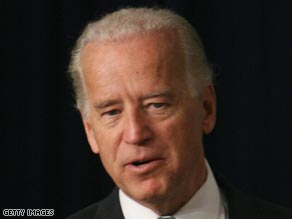 Joe Biden is in Chile talking to Latin American and European leaders ahead of the G-20 meeting.
The leaders attending the Progressive Governance Conference in the seaside resort city of Vina del Mar are Presidents Michelle Bachelet of Chile, Luiz Inacio Lula da Silva of Brazil, Christina Fernandez de Kirchner of Argentina and Tabare Vasquez of Uruguay as well as Prime Ministers Gordon Brown of Britain, Jose Luis Rodriguez Zapatero of Spain and Jens Stoltenberg of Norway.
The conference is billed as "a vital opportunity for the center left's leading international figures to put forward a future vision for progressive politics, as an era defined by the neoliberal faith in laissez faire irrefutably comes to an end."
Bachelet, Brown, Lula da Silva and Stoltenberg will address the gathering Friday night to speak about charting a progressive path in response to the global economic crisis.
On Saturday, Biden and the seven heads of state will explore the financial crisis and environmental issues in a round table discussion, the Mercopress news agency reported.
After the conference, Biden will travel to Costa Rica for meetings with President Oscar Arias and other Central American leaders. He is scheduled to return to Washington on Monday.
President Bill Clinton started the conference in 1999. This year's gathering was organized by the Policy Network, an international think tank based in London, and the Chilean Instituto Igualdad.
Separate from the conference, Clinton will meet Friday afternoon with Peruvian President Alan Garcia in Lima to sign an agreement between Peru's Health Ministry and the William J. Clinton Foundation, which is working on HIV/AIDS, climate change and other matters, the Andina news agency reported.
E-mail to a friend