By Elise Labott
CNN State Department Producer





WASHINGTON (CNN) -- The Obama administration is putting the finishing touches on a plan to beef up resources at the United States border with Mexico to help with that nation's unrelenting war against violent drug cartels, senior administration officials told CNN Monday.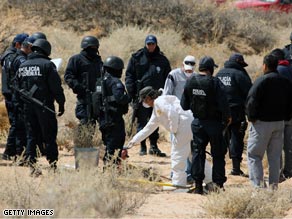 The Obama administration plans to beef up resources at the United States border with Mexico to help with the war on drug cartels.
The plan, being developed by the departments of Justice and Homeland Security, involves moving federal agents, equipment and other resources to the border. It also involves intelligence sharing aimed at cracking down on the flow of money and weapons into Mexico that help fuel the drug trade, the officials said.
"We are discussing more things we can do to address the very real problem of currency and weapons moving into Mexico and at the same time trying to prevent potential border spillover," one senior official said.
The ideas, which officials described as an "anti-smuggling effort," would complement ongoing United States aid to Mexico under the Merida initiative, a three-year, $1.4 billion package aimed at helping Mexico fight the drug cartels with law enforcement training, military equipment and improved intelligence cooperation.
Officials say in the short term, the Obama administration could move more agents from the FBI, Drug Enforcement Administration and Bureau of Alcohol, Tobacco, Firearms and Explosives and deploy new equipment and surveillance technology to help them track movement of cash, drugs and weapons.
Don't Miss
The administration is also looking to increase intelligence cooperation on the border with Mexican authorities, tighten enforcement of existing U.S. executive orders to go after drug trafficking money and money laundering and step up investigation and prosecution of cartel-related activities in America, the officials said.
The plan, which could be announced as early as this week, is being developed with an eye toward the visit of three cabinet secretaries to Mexico before President Obama visits there next month. Secretary of State Hillary Clinton visits Mexico City, Mexico, this week, to be followed next week by Attorney General Eric Holder and Homeland Security Secretary Janet Napolitano.
Mexico's President Felipe Calderon has been pushing back against U.S. criticism of drug cartel-related violence, which killed about 6,500 people in Mexico last year. In speeches and other recent comments, the Mexican president has said the United States must also take responsibility because much of the demand for drugs and most of the weapons used by narco-traffickers come from the United States.
"Mexico believes we are not acknowledging the transitional nature of the problem and the role the U.S. is playing in this," another senior official said. "So we are looking at what U.S. law enforcement agencies can do to respond to the Mexican concerns."
E-mail to a friend

All About Drug Trafficking • Felipe Calderon • Mexico