By Brian Byrnes
For CNN





BUENOS AIRES, Argentina (CNN) -- Farmers in Argentina blocked highways and rural routes throughout the country to protest anew the lack in progress in negotiations with the government over export taxes on farm goods.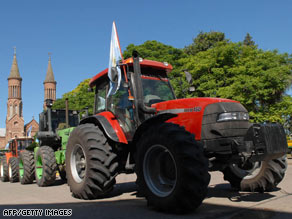 Farmers stage a "tractorazo" in Esperanza, Argentina, on March 12 in protest against taxes on exports of soybeans.
Argentine television news channel Todo Noticias showed images of trucks and cars stopped along rural routes in the provinces of Santa Fe and Entre Rios on Thursday. In the town of Armstrong, 250 miles northwest of the capital of Buenos Aires, protesters stopped traffic on Route 9, burned car tires and waved Argentine flags.
The roadblocks were the latest in a year-long conflict between the government of President Cristina Fernandez de Kirchner and Argentina's large farming sector over export taxes on soybeans. Argentina is the world's third-largest soybean exporter. The country has been hard hit by recent drops in global commodities prices, as well as a severe drought.
Last year, demonstrations by farmers caused food shortages and blocked farm products from leaving the country.
On Thursday farmers once again mounted roadblocks after lawmakers failed to reach quorum in Congress to debate a bill that would reduce the 35 percent soybean export tax.
As farmers gathered Thursday afternoon on the nation's highways, Fernandez was announcing new money-sharing measures.
"Soy revenues will go to a fund that will be shared with the provinces and municipalities," Fernandez told lawmakers at the presidential residence in Olivos. "Seventy percent of the fund will be controlled by the federal government and 30 percent by governors and local officials."
Don't Miss
"It's never been our intention to take anything away from anyone," she said, alluding to complaints from farmers that the export taxes on soybeans were unfair.
The president said $1.776 billion from the fund would be used for social infrastructure needs -- "schools, houses, drinking water, sewers."
Fernandez cited "the moment of international crisis" as the reason for her decision to create "a federal solidarity fund."
But farm leaders criticized the announcement as a political move during an election year. Fernandez has sent a bill to Congress that would move mid-term congressional elections up four months, from October to June.
"The government again will lose again with ideas like these; this is an attitude that will only serve to provoke farmers," Eduardo Buzzi of the Argentine Agrarian Federation told Todo Noticias.
"The people are still being strangled by these taxes."
E-mail to a friend

All About Argentina • Buenos Aires • Cristina Fernandez de Kirchner