MEXICO CITY, Mexico (CNN) -- The driver of the bus that collided with a tractor-trailer in Mexico, killing him and 11 tourists, had more than 20 years of experience, the bus service operator said Wednesday.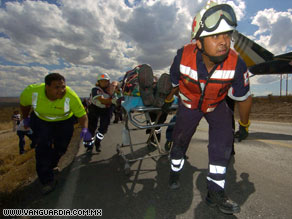 Emergency workers wheel a crash victim on a gurney after Monday's bus crash in Mexico.
The 21-year-old driver of the truck, who was hospitalized, was intoxicated, said Segismundo Doguin Martinez, a police official in the Mexican state of Coahuila, on Tuesday.
Grupo Senda, which operated the Senda Express bus, said in a statement that police reports show the truck driver crossed the median and hit the bus head-on Monday afternoon. The crash occurred near Monterrey, on the road between Saltillo and Zacatecas.
The bus was traveling from McAllen, Texas, to Zacatecas in central Mexico. The company identified the bus driver as Cesar Garcia Huerta. Fifteen people were injured.
"Our bus driver and our bus were in perfect operational condition and totally complying with our strict safety and maintenance standards. Grupo Senda is a company that runs more than 320 million kilometers [200 million miles] per year," the company said in a written statement.
"Also our company is in compliance with all necessary Mexican federal rules and regulations as with all insurance requirements."
The company said the driver was also properly certified for that kind of charter service.
Grupo Senda said it was working with families of the deceased and was paying for transporting bodies to their hometowns. The company also is paying for all hospital and medical bills, it said, and is cooperating in the investigation of the crash in northeast Mexico.
"Grupo Senda wishes to express its most sincere condolences to the families of the victims of this terrible accident," the company said.
Eight of the fatalities were from the United States, three were from Canada and one, the bus driver, was from Mexico, Doguin said.

Watch rescuers work at scene of deadly crash »
The survivors, most of them in grave condition, were taken to the Christus Muguerza Hospital and the Clinica La Concepcion, the Mexican official said.
"They are in a delicate state but out of danger," Doguin said.
He said the truck veered off the road, overcorrected and swerved into oncoming traffic, hitting the bus.
Video of the scene from CNN affiliate TV Azteca 13 showed the left side of the bus sheared off and the semi's cab completely flattened.

Rescue efforts took five hours, TV Azteca 13 reported.
The Web site for Grupo Senda says the company started in Linares, Mexico, more than 75 years ago. It provides bus service to 15 Mexican states and the Texas Valley.
E-mail to a friend

All About Mexico • Traffic Accidents