(CNN) -- Hope dimmed Friday as Canadian searchers combed the Atlantic Ocean for 16 people missing after a helicopter crash the previous day off Newfoundland.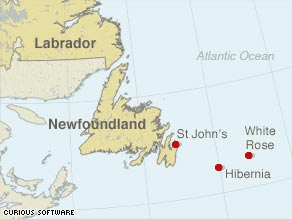 A helicopter made an emergency crash landing off Newfoundland en route to Hibernia oil field on Thursday.
"Our survivability model of 24 hours has now passed, (and) as the time progresses, obviously it becomes less likely that we're going to be able to find someone. But we're always optimistic," said Maj. Denis McGuire of the Search and Rescue Coordination Center in Halifax, Nova Scotia.
He said the search effort would continue at least until nightfall.
The S-92 Sikorsky helicopter was carrying 18 people to an oil platform when it slammed into the water about 30 nautical miles from St. John's, Newfoundland, on Thursday morning.
A man who survived the crash was hospitalized in stable but critical condition, center spokeswoman Jeri Grychowski said. One body was found in the water, but the person's name hasn't been released to the public.

Watch how helicopter fliers train to survive crashes »
McGuire said searchers using night vision equipment covered 1,200 square nautical miles of the Atlantic Ocean during the night, mostly between Newfoundland and Nova Scotia. At the end of the day Friday a decision will be made on whether to keeping looking, McGuire said at a news conference.
"We'll continue until there's no chance of locating any survivors," he said.
Trevor Pritchard, a regional manager with Husky, appeared at the news conference with McGuire and said employees were stressed as they tried to cope with the incident. About 14 workers asked to be taken to shore, he said.
McGuire said debris from the chopper covered more than six nautical miles, but he didn't know what parts of the craft were floating in the water.
Participating in Friday's search were two Coast Guard vessels, two commercial vessels, two Cormorant helicopters and one Hercules C-130 plane, according to Grychowski.
E-mail to a friend

All About Atlantic Ocean • Newfoundland and Labrador