By Arthur Brice
CNN





(CNN) -- Like the neighbors of a new kid who just moved into the big fancy house down the block, many Latin American leaders are curious about President Obama.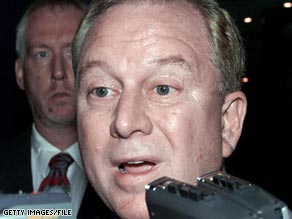 Latin America expert Otto Reich says the summit is an "opportunity, but also a risk for U.S. policy."
The heads of 34 nations will get a chance to see him up close next month at the Fifth Summit of the Americas in Trinidad and Tobago. What he says will be closely watched.
"The spotlight will be entirely on Barack Obama," said Peter Hakim, president of the Washington-based Inter-American Dialogue.
Hakim will be one of three people who will on Wednesday address the House Foreign Affairs Committee about the summit. Otto Reich, who served Presidents Reagan and both Bushes in a number of high-level Latin American posts, also will speak. Thomas F. "Mack" McLarty, former chief of staff to President Bill Clinton, will be the third person.
Reich has some advice for Obama: Be careful.
"The summit is an opportunity, but also a risk for U.S. policy," Reich said. "Not all the neighbors there are good. Why do we recognize this reality when we lock our doors at night but don't recognize it in our foreign policy?"
Reich said the United States must differentiate between its friends, primarily Colombia and Mexico, which are under attack from drug traffickers and organized crime, and hostile countries, particularly Venezuela, Cuba, Bolivia, Ecuador and Nicaragua.
Cuba, which was expelled from the Organization of American States, is not allowed to attend the summit.
"Obama can't look at this group of people and think he's among a group of friends," Reich said. "Let's not look at this as a community of 34 countries. They are very different people."
Hakim said Obama must ask Latin American leaders to share the burden.
"He shouldn't simply say what the United States is going to do," Hakim said. "He should say what he expects Latin America to do."
Hakim pointed out several areas Obama needs to address.
First, he said, "He must make clear he's trying to fix the U.S. economy."
He said Obama also will have to deal with the one nation that won't be there -- Cuba. The United States broke diplomatic relations with Cuba in 1961 and imposed an economic embargo in 1962. President Bush increased some restrictions in the past eight years.
Obama has signaled that he's ready to start relaxing some of the prohibitions.
"This is the issue of greatest symbolic importance," Hakim said. "It will be seen as a test of real U.S. readiness to change in the hemisphere. What he says about Cuba will make headlines."
But Reich warns that the United States should extract some conditions from Cuba before making any allowances.
"There's a way it can be done to advance the conditions of the people in Cuba," he said. "I don't approve of the unilateral way it's being done. The embargo is a negotiating tool. We should not negotiate with ourselves, and that's what we're doing."
Hakim also said Obama must address "the pandemic of criminal violence" destroying many parts of Latin America. U.S. aid is focused primarily on Mexico and Colombia.
"Is the United States going to go beyond Mexico and Colombia?" he asked. "Is the United States ready to rethink it's drug strategy, which has done so little?"
A new approach to the drug war has received increased support and attention recently.
The former presidents of Mexico, Colombia and Brazil called last month for the decriminalization of marijuana for personal use and a change in tactics on the war on drugs.
Ex-presidents Ernesto Zedillo of Mexico, Cesar Gaviria of Colombia and Fernando Henrique Cardoso of Brazil made their announcement at a meeting in Brazil of the Latin American Commission on Drugs and Democracy.
"The problem is that current policies are based on prejudices and fears and not on results," Gaviria said at a news conference in which the commission's recommendations were presented.
The 17-member panel worked on the report for a year. Gaviria said the time is right to start a debate on the subject, particularly with the pragmatic openings provided by Obama's election.
The Fifth Summit of the Americas will be held in Port of Spain April 17-19. The periodic meetings bring together the 34 democratically elected heads of state and governments in the Western Hemisphere to discuss regional issues.
The first summit was held in Miami, Florida, in December 1994. The most recent took place in Mar del Plata, Argentina, in November 2005.
E-mail to a friend

All About Barack Obama • Latin America