(CNN) -- Five human heads were found in ice chests on Tuesday under a ficus tree in the central Mexican state of Jalisco, police said.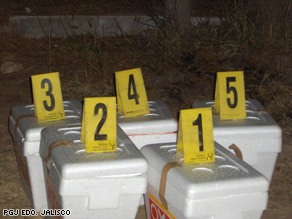 Police in Jalisco, Mexico, discovered five heads beside a road to Guadalajara on Tuesday morning.
The grisly find appeared to be the latest indication of drug cartels fighting for supremacy in battles that have left thousands dead.
Police in the municipality of Ixtlahuacan del Rio were informed of the discovery at 2 a.m., the prosecutor's office said in a written statement.
Each head was found in a separate ice chest beside a road leading to the city of Guadalajara, police said.
The tops of the ice chests were inscribed with messages, among them, one that threatened further violence.
"Like these, I am going to finish everyone," says one. "I'm going after you, 'Goyo.'"
Don't Miss
Another said, "Here we go, 'Goyo,' idiot."
The victims' eyes were taped shut and the heads had been severed only a few hours before they were discovered, the statement said.
The victims -- all of them men -- were estimated at 30 to 45 years of age.
Municipal police said one of the heads appeared to belong to someone known in the community.
Jalisco is near the state of Sinaloa, where the Sinaloa cartel is based.
E-mail to a friend

All About Mexico • Illegal Drugs • Guadalajara