By Arthur Brice
CNN





(CNN) -- Mexican President Felipe Calderon announced the resignations Tuesday of three high-level government officials, most notably Communications and Transport Secretary Luis Tellez Kuenzler.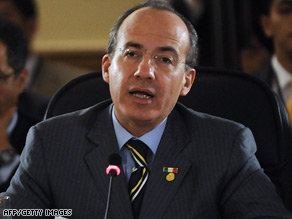 The government of Mexican President Felipe Calderon, seen here in January, is facing elections in July.
Abraham Gonzalez, a key official for the powerful ministry that oversees Mexico's government, also resigned. So did Sergio Vela Martinez, president of the National Council for Culture and the Arts.
No official reasons were given for any of the resignations, which analysts said did not appear to be related. But at least two of the resignations did not come as a surprise.
Tellez, who stepped down from a Cabinet-level post, had been involved for weeks in a controversy over taped comments revealed last month by CNN journalist Carmen Aristegui.
In the taped conversation, Tellez said former Mexican President Carlos Salinas de Gortari had stolen government money. Salinas has not been formally accused of any crime.
Tellez received an anonymous threat in late February from an apparent political enemy telling him to resign or more damaging audiotapes would be released to the media. He refused and turned the matter over to authorities.
Ana Maria Salazar Slack, a political analyst who is host of a daily radio show in Mexico City, called it "an almost soap opera-ish scandal" that left Calderon little choice but to force Tellez to resign.
"Although Calderon wanted to keep him in office, it made it very difficult to keep him there," she said.
Calderon moved Tellez to a post as a presidential aide dealing with economic matters.
Other observers also were not surprised by the move.
"That was waiting to happen," said Andrew Selee, director of the Mexico Institute at the Washington-based Woodrow Wilson Center. "But evidently the president values his counsel and has kept him in a high-profile position in the presidency from which he'll continue to have influence."
Robert Pastor, the Latin America national security adviser for President Jimmy Carter in the 1970s, praised Tellez but said political considerations prevailed.
"He's a very competent fellow," Pastor said. "One of the most competent people I've known in Mexico. But this tape in particular was very embarrassing."
In a televised news conference after Calderon announced the changes, Tellez expressed his "gratitude for this opportunity that few Mexicans obtain."
Replacing Tellez will be Juan Molinar Horcasitas, the head of the Mexican Institute for Social Security.
Molinar belongs to the same party as Calderon, the National Action Party [PAN], while Tellez belongs to the opposition Institutional Revolutionary Party [PRI]. That played a role, Slack said.
"The president is sending a signal to his party that he's going to support people from his own party," Slack said. "Beyond the political scandals of the tapes, there's a decision for the president to appoint people very close to the party."
Gonzalez's departure was not a surprise either, since he is running for a congressional seat in July and Mexican law requires him to resign.
Analysts spoke highly of Gonzalez's replacement, Geronimo Gutierrez Fernandez. He had been the top person in the foreign ministry for Latin and North America.
"Gutierrez moving in is outstanding," the Mexico Institute's Selee said, calling him "one of the smartest people ... I've met" and "an impressive guy."
Consuelo Saizar Guerrero takes over as head of the National Council for Culture and the Arts, replacing Vela, whose reasons for resigning were not disclosed. Saizar previously served as head of the Economic Culture Fund, the government's book-publishing enterprise.
The arts and culture post will play a significant role in 2010, when Mexico celebrates 100 years of its social revolution and 200 years of its declaration of independence, radio analyst Slack said.
As for the timing of resignations from three key posts, Slack linked it to Mexico's election calendar.
"In order to understand these changes," she said, "you have to understand there are midterm elections in July. So if there are going to be any changes, they have to take place right now."
Meanwhile, Peter Hakim, president of the Washington-based Inter-American Dialogue, said the changes do not portend a political shift.
"This doesn't sound like any major direction in change for Calderon," Hakim said.
E-mail to a friend

All About Felipe Calderon • Mexico • Mexican Politics