From Javier Doberti
CNN






BUENOS AIRES, Argentina (CNN) -- After months of confrontations, Argentina's government and its farmers appeared Tuesday to have made progress toward resolving their differences.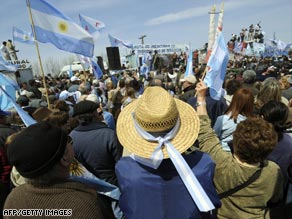 Producers protest in San Pedro, 160 km northwest of Buenos Aires on October 8, 2008, during a strike.
Government representatives described a series of agreements signed Tuesday after a marathon bargaining session as successful, while representatives of the farming sector were more cautious, describing the accords only as a step forward.
The agreements cover compensation for milk, grain and cattle, and came after President Cristina Fernandez de Kirchner unexpectedly joined Production Minister Debora Giorgi and Interior Minister Florencio Randazzo in the talks.
The accords did not alter export taxes on soybeans -- the area of disagreement that led farmers nearly a year ago to take to the streets in protest, blocking highways and resulting in food shortages in some areas.
E-mail to a friend

All About Argentina