BOGOTA, Colombia (CNN) -- Investigators in Colombia are trying to figure out who killed a priest with ties to President Alvaro Uribe.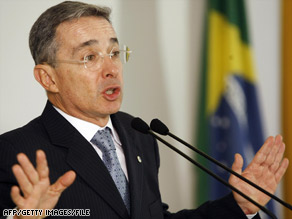 President Alvaro Uribe says a reward has been offered for information in Father Juan Gonzalo Aristizabal's death.
Father Juan Gonzalo Aristizabal was found dead Sunday in Medellin on a road near the University of Antioquia in northwestern Colombia, the Colombian government said.
Aristizabal was a chaplain for the state government in Antioquia when Uribe was governor there from 1995 to 1997.
"We're terrified and horrified by this killing," Uribe said in a statement. "The killing of Father Juan Gonzalo Aristizabal pains us much."
Authorities have offered a reward for information about the killer or killers, Uribe said.
E-mail to a friend

All About Colombia • Alvaro Uribe