Editor's note: Fareed Zakaria is a foreign affairs analyst who hosts "Fareed Zakaria: GPS" on CNN at 1 and 5 p.m. ET Sundays.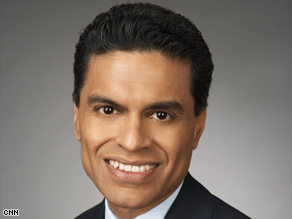 Fareed Zakaria says the economic stimulus plan is not perfect, but it is better than nothing.
NEW YORK (CNN) -- Stocks retreated Friday, building on the previous day's declines, after the Dow closed at its lowest point in more than six years.
Stocks have been sliding over the last few weeks as investors have shown skepticism about the government's ability to slow the recession, despite the announcement of a series of programs.
President Obama's $75 billion housing plan, announced Wednesday, is meant to help up to 9 million struggling borrowers. On Tuesday, Chrysler and GM asked for another $21.6 billion to stay afloat on top of the $17.4 billion in government assistance the companies have already received.
Investors are still sorting through the details of the $787 billion economic stimulus plan, signed into law Tuesday. And Treasury's bank bailout plan, announced last week, was perceived as being short on details
World affairs expert and author Fareed Zakaria spoke to CNN about the economic crisis.
CNN: Is President Obama's financial plan good?
Zakaria: Yes. Here's the basic problem we face: the American consumer is deep in debt and he is not going to spend. That's 70 percent of the economy that is gone. Then there are the businessmen -- they are being very cautious in the face of a worldwide recession. The only entity that can spend is the government. Is it a perfect stimulus? No, but it's a lot better than nothing.
CNN: So it will get the economy moving?
Zakaria: It will help stop massive job loss. But there is no easy or quick fix. It took years to get into this debt and it will take years to get out. As (Columbia University economist) Jeff Sachs explained, "We're going to have to come out of this gradually and the long term is going to become the next short term. There is no quick in this. This is really about transformation, not simply about bouncing back from a slowdown."
CNN: What do you think of the new bank bailout plan?
Zakaria: It's not clear what exactly it is but I think they will have to experiment further. It doesn't look like a fix to me. The government will still either underpay for the assets, which will cause bank failure or overpay, which will squander taxpayer money. And it doesn't seem like they haven't addressed the housing situation adequately.
'Fareed Zakaria GPS'
Will the Obama plan actually save the U.S. economy? We'll get some answers from three world-famous economists on this week's "GPS"
Sunday, 1 & 5 p.m. ET

CNN: What about the housing situation?
Zakaria: This is a very important issue and it's at the heart of the problem we face. We need to find a way for people to stay in their homes. Otherwise it could lead to collapsing housing prices in their neighborhood, the houses around it -- it's a domino situation. The question is who needs to bear the brunt of this situation.
As (Columbia University economics professor) Joseph Stiglitz mentions, "One of the important problems is that many families have houses, the value of their mortgages much greater than the value of the house, their home under water. It makes sense to have these mortgages restructured to write them down. Bad loans were made. The question is, who's going to pay for it?
Well, especially on the sub-prime case, it was sophisticated, supposedly informed banks lending to a very large extent, unsophisticated, in many cases first-time home buyers. To me, it's very clear. It should be the banks that bear the bulk of the cost."
CNN: What do we need to do overall to get out this mess?
Zakaria: The key is we need a new source of productivity. The tech bubble, housing prices, and debt are all used up.
We need a new fuel for the US economy and that fuel could be green energy. Joe Stiglitz argues "We have to be thinking about the long run and begin to think about it today and there is really only one answer I think. And it is the conversion to you might say a green economy, conversion addressing the problem of global warming. That is the one non-bubble solution that will help get us into sustained growth."
E-mail to a friend

All About Economic Stimulus • Barack Obama