CARACAS, Venezuela (CNN) -- The Venezuelan government on Thursday took over the Stanford Bank Venezuela, whose owner is accused in the United States of a multibillion-dollar investment and sales fraud scheme, the state-run news agency reported.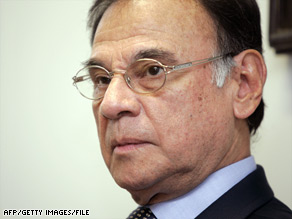 Ali Rodriguez Araque, minister of economy and finance, assures Venezuelans the country's bank system is stable.
"Stanford Bank Venezuela will be put on sale as soon as possible," said Ali Rodriguez Araque, the country's minister of economy and finance, said. "We already have a group interested in acquiring the bank entity."
In recent days, depositors had worried that troubles at Stanford International Bank would hurt Stanford Bank Venezuela and had withdrawn cash from the small local bank, even though the companies' assets are separate, industry officials and bank customers said.
The bank recorded "extraordinary" withdrawals Tuesday and Wednesday beyond what it can manage, said Edgar Hernandez Behrens, Venezuela's superintendent of banks.
Officials with the Venezuelan Central Bank, the banking superintendent's office and Stanford Bank had huddled Wednesday to decide how to deal with the problem.
A similar scene played out in Antigua, where customers lined up outside Stanford-owned banks to pull their money.
The Securities and Exchange Commission charged financier R. Allen Stanford and three of his companies Tuesday with orchestrating $9.2 billion in investment and sales fraud. Stanford International Bank, based in Antigua, is accused of acting through a network of Stanford Group Co. financial advisers to sell about $8 billion of "certificates of deposit" to investors.
The SEC also charged Stanford International Bank chief financial officer James Davis and Laura Pendergest-Holt, chief investment officer of Stanford Financial Group. The third company named in the complaint is investment adviser Stanford Capital Management.
Stanford International Bank's Web site said its network has $51 billion in deposits and assets under management or advisement, with more than 70,000 clients in 140 countries.
In September, Forbes named Stanford as No. 205 in an article on the 400 Richest Americans, saying he was worth more than $2 billion.
Stanford has reveled in the high life and sponsored cricket matches in the Caribbean. He has citizenship in the United States and Antigua. He was knighted by the Caribbean nation and is known as Sir Allen Stanford.
Stanford's whereabouts were uncertain. CNN made repeated attempts Wednesday to reach Stanford and his attorneys. There was no response. Some media reports have put him in Antigua, where he has a home, but that couldn't be confirmed.
Industry officials have said the fall of one of the smallest retail banks in Venezuela, which only takes deposits and makes loans in local currency, was unlikely to cause much of a disturbance in the rest of the sector.
Rodriguez, the Venezuelan banking minister, said the bank was affected by outside factors, not internal ones, and that the nation's financial system would not be affected. But the decision by a large number of depositors to withdraw their money forced officials to intervene, he said on the state-run ABN news agency.
"The Venezuelan financial system is totally stable, so I invite all Venezuelans to remain calm," the news agency quoted him as saying.
E-mail to a friend