BOGOTA, Colombia (CNN) -- Alan Jara, the former governor of Colombia's Meta state, arrived at the airport in Villavicencio on Tuesday afternoon, hours after a Marxist rebel group freed him.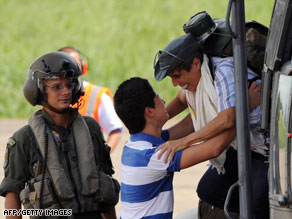 Ex-hostage Alan Jara, right, is greeted by son Alan Felipe after arriving Tuesday at an airport southeast of Bogota.
Jara could be seen waving from a window as the helicopter, bearing Red Cross insignia, taxied and delivered him into the waiting arms of his wife and son. Jara was abducted in 2001.
They walked away from the helicopter, smiling broadly and with their arms around each other.
"There has been a miracle today," Jara said to a throng of reporters.
FARC rebels released four other hostages -- three police officers and a soldier -- over the weekend.
Colombian Sen. Piedad Cordoba, who brokered the releases with the help of the International Committee of the Red Cross and a group called Colombians for Peace, stood by Jara's side as he got off the aircraft. Brazil also helped, providing the aircraft used in the releases.
Sigifredo Lopez, a former official in the city of Valle del Cauca kidnapped in 2003, also is scheduled to be released this week.
Don't Miss
The FARC, the largest and oldest guerrilla group in Colombia, announced the releases December 21 and designated Cordoba as the coordinator.
Colombia has said FARC -- the Spanish acronym for Revolutionary Armed Forces of Colombia -- is still holding about 700 captives. But many analysts see this week's hostage releases as the first step toward an eventual peace accord with the government.
On Sunday, a Red Cross helicopter carrying the four freed hostages landed at an airport in Villavicencio, southeast of Bogota, shortly before 7 p.m.
The men -- some of whom had been held for several years, the Red Cross said -- waved as they stepped off the aircraft and were met by well-wishers carrying white flowers.
At a ceremony Sunday night with Colombian President Alvaro Uribe, the soldiers described their captivity. One of them sang a song he had composed while being held.

Watch the freed hostages speak »
Jara's release was delayed for a day after complications arose Monday concerning flights by Colombian military planes over the area where hostages were released Sunday.
On Sunday night, Uribe had withdrawn permission for Cordoba to negotiate with the rebels, but he relented Monday at the urging of the Red Cross, he said in a statement posted on the president's Web page.
Uribe withdrew the authorization after some negotiators complained publicly that Colombian military aircraft flying over the area where the hostages were released jeopardized the process.
Uribe announced Monday that no overflights by military aircraft would be allowed. Flights would be permitted, Uribe said, only at the request of the Red Cross in an emergency situation.
The Colombian government has recently stepped up pressure on the rebels, offering rewards to guerrillas who surrender and free hostages. Earlier this month, two guerrillas fled their camp deep in the jungles of southern Colombia, bringing along two captives -- a 14-year-old boy and a male adult who were kidnapped in December.
And a July rescue operation freed former presidential candidate Ingrid Betancourt, who had been held captive since 2002, along with three American military contractors and 11 Colombian police and military members.
The government has said the FARC's military force has been severely compromised in recent months, but authorities still accuse it of trafficking huge quantities of cocaine to finance its decades-old insurgency.
Security analysts said FARC has about 9,000 to 12,000 armed guerillas and several thousand supporters, mostly in rural areas.

The guerrilla group was established in 1964 as the military wing of the Colombian Communist Party.
The guerrillas operate mostly in Colombia but have carried out extortion, kidnappings and other activities in Venezuela, Panama and Ecuador, according to analysts.
E-mail to a friend

All About Colombia • FARC • Alvaro Uribe