By Guillermo Fontana
CNN





BUENOS AIRES, Argentina (CNN) -- The governor of the province of Buenos Aires, Daniel Scioli, said Tuesday that he received a death threat possibly linked to narcotraffickers upset at his government's strong anti-drug policy.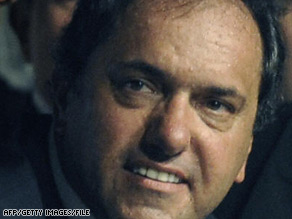 Buenos Aires province Gov. Daniel Scioli listens to Argentina's president deliver a speech in March.
Until a few years ago, Argentina was considered primarily a transit point for drugs -- because of its porous borders -- rather than a destination.
But experts say the situation has changed.
In the middle of last year, a triple killing, still unsolved, revealed a big business in ephedrine. It led Argentina to modify its legislation to halt the export to Mexico of its chemical precursor, which is used in the manufacture of a number of synthetic, illicit drugs.
"This type of violence in Argentina didn't used to exist," said Miguel Angel Pierri, a criminal lawyer. "If we don't adopt a concrete state policy regarding questions of narcotrafficking, we are going to find this type of violence, this type of internal war, this type of narcocriminality and, of course, a society decimated by the infestation of narcotraffickers."
Though the government does not release statistics regarding drug seizures, several government functionaries said such seizures have increased significantly. They credited not only better work by security forces, but the possibility that there are more drugs inside the country.
Justice Minister Anibal Fernandez has said more than once that state resources directed toward prosecuting the consumers of drugs are badly spent.
The Supreme Court of Justice is studying a decision that would depenalize the possession of drugs for personal use, differentiating the consumers from the sellers and traffickers.
E-mail to a friend

All About Argentina • Illegal Drugs