CARACAS, Venezuela (CNN) -- Latin American leaders assembled Monday to mark the 10th anniversary of Venezuelan President Hugo Chavez's rise to power, a period described by state-run television as "a decade of successes."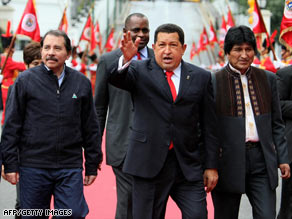 Venezuela's Hugo Chavez, center, is flanked by Bolivia's Evo Morales, right, and Nicaragua's Daniel Ortega.
Chavez and representatives of the leftist group Bolivarian Alternative for the Peoples of Our Americas, or ALBA, walked through the National Pantheon, a square on the edge of the old town of Caracas that holds the sarcophagus of Simon Bolivar, whom Chavez credits with inspiring him as "the father of the revolution."
In 1819, Bolivar founded Gran Colombia, a federation of what is now Venezuela, Colombia, Panama and Ecuador.
In attendance were presidents Daniel Ortega of Nicaragua, Jose Manuel Zelaya of Honduras and Evo Morales of Bolivia; Roosevelt Skerrit, prime minister of Dominica; and Cuba's first vice president, Jose Ramon Machado Ventura.
Absent was Chavez's friend and mentor, former Cuban President Fidel Castro, who has been sick. But that didn't stop Chavez from addressing him.
"Fidel, from here I salute you," he said. "Revolutionary father, from here we, your sons and daughters, salute you!"
Chavez and his allies founded ALBA several years ago as a response to U.S. influence in Latin America. Chavez had a rocky relationship with former President George W. Bush, whom he once called "the devil."
Dressed in a dark suit and red tie, Chavez stopped frequently to embrace and kiss children, some of whom chanted, "Chavez! Chavez! Chavez!"
As he held Bolivar's jewel-encrusted sword in his white-gloved hand, Chavez reaffirmed his commitment to the leftist path that has guided him: "There is no other path to redemption for the human being than socialism," he said.
Don't Miss
With the day declared a national holiday, hundreds of people jammed the square to survey the pageantry.
The leaders were to discuss the world economic crisis.
Venezuela has been hit particularly hard by the recent drop in oil prices: Oil revenue accounts for about 90 percent of its export earnings, about half of federal budget revenue and some 30 percent of gross domestic product, according to the CIA Factbook.
Chavez was elected president in 1998, six years after a failed coup attempt to depose then-President Carlos Andres Perez. Chavez was sworn in on February 2, 1999.
He was re-elected in a special election in July 2000 after a new constitution was adopted and again in 2006.
The new constitution limits him to two consecutive six-year terms, but the Venezuelan congress recently set a referendum for February 15 that would allow Chavez to run for a third term in 2012. Venezuelans narrowly rejected a similar measure in a December 2007 referendum.
Chavez has been campaigning hard in favor of the referendum, which he called for in November, a week after candidates he backed won a majority of seats in local elections seen as a test of his influence.
Skerrit brushed aside the possibility that Chavez might lose. "I want to say to you, my friends in Venezuela, that we will be back to celebrate the 20th, the 30th, the 40th and the 50th anniversary of President Chavez in office," he told Chavez supporters who braved a steady downpour to hear him. "Chavez forever!"
The opposition on Monday denounced Chavez's effort to amend the constitution to get rid of term limits and criticized the declaration of February 2 as a national holiday that resulted in most stores being shut.
"Even today, as we are in this news conference, the national guard is on the streets asking who has opened their stores in order to make enough to carry food to their house, demanding and ordering their closure because today is a holiday, because we have 10 years of bad governance," said Tomas Guanipa, director of the opposition party First Justice.
But Morales, Bolivia's first indigenous president, credited Chavez with helping the country. "These revolutions don't go backward," he said. "We can make mistakes, I can make mistakes, but the people don't make mistakes."
E-mail to a friend

All About Hugo Chavez • Venezuela