BOGOTA, Colombia (CNN) -- A hostage held by Marxist rebels in Colombia was not released Monday as hoped but the lead negotiator said she will try again early Tuesday.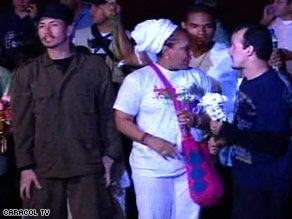 Some of the freed hostages gather for cameras shortly after landing at the Villavicencio Airport Sunday evening.
Negotiators expected that Alan Jara, the governor of Meta state, would be released Monday, one day after a soldier and three police officers were set free. Jara was abducted in 2001.
Sigifredo Lopez, a former official in the city of Valle del Cauca who was kidnapped in 2003, also is scheduled to be released this week.
Colombian Sen. Piedad Cordoba brokered the releases with the help of the International Red Cross and a group called Colombians for Peace. Brazil also has helped, providing air transportation.
Red Cross spokesman Yves Heller said at a news conference Monday in Villavicencio that "peaceful agreements" were being made with the FARC rebels to complete the releases.
A short while later, Cordoba said she will resume her efforts at 8 a.m. Tuesday.
"We will leave early tomorrow to continue the liberation," she said at a packed news conference.
Don't Miss
On Sunday night, Colombian President Alvaro Uribe had withdrawn permission for Cordoba to negotiate with the rebels, but he relented Monday morning at the urging of the Red Cross, he said in a statement posted on the president's Web page. Uribe had deauthorized Cordoba after some of the negotiators complained publicly that Colombian military aircraft flying over the area where the hostage were released jeopardized the process.
Uribe announced Monday that no overflights by military aircraft will be allowed. Flights will be permitted, Uribe said, only at the request of the Red Cross in an emergency situation.
The FARC, the largest and oldest guerrilla group in Colombia, announced the releases December 21 and designated Cordoba as the coordinator.
Colombia says FARC, the Spanish acronym for Revolutionary Armed Forces of Colombia, is still holding about 700 captives. But many analysts see this week's hostage releases as the first step toward an eventual peace accord with the government.
On Sunday, a Red Cross helicopter carrying the four freed hostages landed at an airport in Villavicencio, southeast of Bogota, shortly before 7 p.m.
The men, some of whom had been held for several years, the Red Cross said, waved as they stepped off the aircraft and were met by well-wishers carrying white flowers.
At a ceremony Sunday night with Uribe, the soldiers described their captivity. One of them sang a song he had composed while being held.
"The conditions in which the FARC keeps each of its kidnapped is lamentable -- tied, worse than if we were animals, chained at the neck," said police agent Jose Lozano Guarnizo. "In addition to a chain, we also were lassoed to a tree. We couldn't move more than three meters."
The hostages' location also was constantly being changed as the guerillas tried to evade government troops.
"I believe that in less than two months we walked more than 600 kilometers [373 miles]," Lozano said. "We were on the move almost every day because you could feel the army's relentless pursuit."
The food was lousy, they said.
The freed hostages also said the guerrillas coached them on what to say and were told to deride Uribe and other officials. The message did not take.
"I want to also express to the FARC terrorists they will never be able to take power, like they have been telling the whole world," soldier William Giovanni Dominguez said.
He then sang the song he had composed. Uribe looked on impassively.
The Colombian government has recently stepped up pressure on the rebels, offering rewards to guerrillas who surrender and free hostages. Earlier this month, two guerrillas fled their camp deep in the jungles of southern Colombia, bringing along two captives -- a 14-year-old boy and a male adult who were kidnapped in December.
A July rescue operation freed former presidential candidate Ingrid Betancourt, who had been held captive since 2002, along with three American military contractors and 11 Colombian police and military members.
Although the government says the FARC's military force has been severely compromised in recent months, authorities still accuse it of trafficking huge quantities of cocaine to finance its decades-old insurgency.
Security analysts say FARC has about 9,000 to 12,000 armed guerillas and several thousand supporters, mostly in rural areas.
The guerrilla group was established in 1964 as the military wing of the Colombian Communist Party.
The guerrillas operate mostly in Colombia but have carried out extortion, kidnappings and other activities in Venezuela, Panama and Ecuador, according to the Federation of American Scientists Intelligence Resource Program.
E-mail to a friend