By CNN's Melissa Gray





LONDON, England (CNN) -- The British man accused of hacking into U.S. military computers got a dose of good news Friday when the High Court granted his request for a review of his case, thus postponing his extradition to the United States.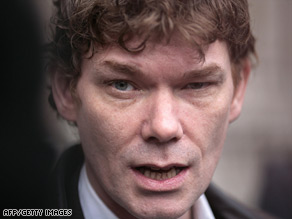 Briton Gary McKinnon is accused of carrying out the biggest ever U.S. military hacking operation.
Gary McKinnon had argued that the existing extradition order should be reexamined in light of his recent diagnosis of Asperger syndrome, his lawyer, Karen Todner, told CNN.
At the same time, McKinnon has made a separate appeal to have his case heard in Britain.
Home Secretary Jacqui Smith has agreed to delay any action on McKinnon's extradition until the director of public prosecutions makes a decision on that appeal, a Home Office spokeswoman told CNN.
Todner said Friday's decision is "very positive, and I'm very, very pleased." About her client, she said, "He's overjoyed this morning."
They are McKinnon's last avenues of appeal in what has become a drawn-out case.
The U.S. government says McKinnon carried out the biggest military computer hacking of all time, accessing 97 computers from his home in London starting in March 2001 and costing the government about $1 million.
McKinnon, currently free on bail in England, has said he was simply doing research to find out whether the U.S. government was covering up the existence of UFOs.
U.S. federal prosecutors accuse McKinnon of breaking into military, NASA and civilian networks and accessing computers at the Pentagon; Fort Benning, Georgia; Fort Meade, Maryland; the Earle Naval Weapons Station in Colts Neck, New Jersey; and the Johnson Space Center in Houston, Texas, among others.
The intrusions happened over a year-long period beginning in March 2001, said Paul McNulty, the former U.S. Attorney for the Eastern District of Virginia. In one case, McKinnon allegedly crashed computers belonging to the Military District of Washington.
McKinnon is believed to have acted alone, with no known connection to any terrorist organization, McNulty said.
A U.S. federal grand jury indicted McKinnon on seven counts of computer fraud and related activity. He faces a maximum of 10 years in prison on each count and a $250,000 fine.
McKinnon has previously said it was easy for him to access the secret files.
Don't Miss
"I did occasionally leave messages in system administrators' machines saying, 'This is ridiculous,'" McKinnon has said. "(I left) some political diatribes as well, but also a pointer to say, you know, this is ridiculous."
McKinnon was on the brink of extradition last August when the European Court of Human rights in Strasbourg, France, refused to reconsider the decision to send him to the United States, effectively clearing the way for his transfer.
Shortly after the decision, however, McKinnon was diagnosed with Asperger syndrome, and he claims that diagnosis changes the case for extradition.
It was on that basis that McKinnon made his appeals in Britain.
Asperger syndrome is a form of autism that affects a person's social communication and interaction, according to Britain's National Autistic Society.
Those affected often have above-average intelligence and fewer problems speaking than those with autism. They sometimes have difficulty knowing when to start or end a conversation and can be very literal in what they say, with difficulty understanding jokes, metaphors, and sarcasm.
In addition, some people with Asperger syndrome develop an intense, sometimes obsessive interest in a hobby or subject, the National Autistic Society said.
"He says what he thinks to his own detriment," McKinnon's friend told CNN. He said McKinnon fears that his compulsion to say what he thinks would land him in trouble in an American prison.
"That diagnosis needs to be looked at (by a court)," the friend said.
E-mail to a friend