CARACAS, Venezuela (CNN) -- The Venezuelan National Assembly has approved a referendum on a constitutional amendment that would allow President Hugo Chavez to run for a third consecutive six-year term in 2012.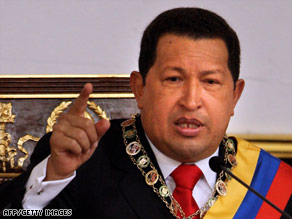 Venezuelan President Hugo Chavez in November called for a referendum on unlimited re-elections.
The referendum likely will be held February 15. Venezuelans narrowly rejected a similar measure in a December 2007 referendum.
The proposed amendment would change five constitutional articles and would allow indefinite re-election not only of the president, but also governors, mayors and national and regional legislators.
The National Assembly is expected to notify the National Electoral Council formally on Friday that the referendum has been approved. The electoral council then has 30 days to set up a vote.
Thousands of university students opposed to unlimited terms protested the decision. The students also want voter registration to be reopened so about 300,000 newly eligible voters can cast ballots in the referendum.
The measure passed Wednesday night after eight hours of debate in the National Assembly, which is controlled by Chavez's ruling party, the United Socialist Party of Venezuela.
Chavez called for the referendum in November, one week after Chavez-backed candidates won a majority of the seats in local elections that were seen as a test of his influence. Pro-Chavez candidates won the gubernatorial races in 17 of 22 states.
A jubilant Chavez said the election ratified his 10-year-old presidency.
"This great socialist victory is a very important sign," Chavez said after the election. "For me, as president and leader of the Venezuelan socialist project, the people are telling me, 'Chavez, keep going along the same path.' "
Chavez became president of Venezuela in 1999 and then was elected in 2000 when the National Assembly drafted a new constitution giving the president a six-year term but limiting the presidency to two terms. He easily won re-election in 2006 with nearly 63 percent of the vote.
E-mail to a friend

Maria Carolina Gonzalez contributed to this report for CNN.
All About Hugo Chavez • Venezuela