STORY HIGHLIGHTS
One-time refugee now living in the U.S. returns to Sudan to get out the vote

Daniel Deng is on a voter registration drive in remote Southern Sudan

He walked hundreds of miles as a child to flee the war in Sudan

Now in a wheelchair he is back home

JUBA, Sudan (CNN) -- Daniel Deng, like thousands of other children, walked hundreds of miles to escape Sudan's war zone, moving for months farther and farther from his home country.
"We had to walk the whole night ... we maybe rest for an hour," he told CNN of the journey about two decades ago.
The trek, which robbed him of his ability to walk, took him to Ethiopia, then to Kenya, then eventually far from the Africa continent to the United States. he carved out a comfortable life in Colorado working in the IT industry, far from the war-torn, dusty land of his childhood.
Now using a wheelchair, Deng has returned to help register voters in Southern Sudan ahead of two very important votes. The first, in April, is to elect Sudan's presidential, state and legislative leaders.
Those elections, the country's first since 1986, come ahead of a January 2011 referendum in Southern Sudan on whether the region should declare its independence.
The April election will be the first time that most people in Southern Sudan have ever cast ballots.
"I think that it is very important for Sudanese to take this opportunity to get out to register and vote," said Deng, who is in his late 20s.
"This is the first time they have done so ... right now we feel like we can have an election that everybody is part of. ... We want to educate and we want to inspire people," he said.

Video: North-south split in Sudan

Video: Oil brings pollution fears

Video: Sudan's paradise lost?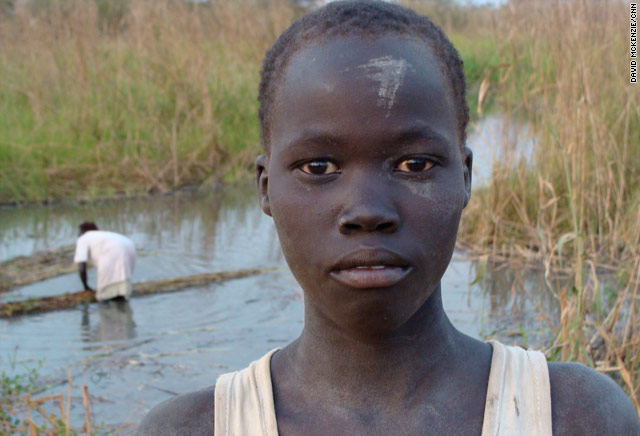 Gallery: Sudan's oil curse
"I told them that this thing called voting in this generation is something that people have fought and died for. So, now you have got it, why don't you exercise your right and vote?"
The April elections are a major milestone in a 2005 peace agreement that ended a north-south civil war that killed more than 2 million people.
The elections also are a crucial step towards the referendum on independence, according to U.N. officials in Southern Sudan. Many believe that the success or failure of the elections will directly impact southerners' chances for independence.
The peace agreement ended more than two decades of war between the Sudanese People's Liberation Army in the south and government forces from the north -- a conflict that is blamed for the deaths of 2 million people, many from starvation.
Voter registration is not easy amid such a backdrop. Deng and others face numerous challenges, not least of all getting to potential voters in the South, a region that is roughly the size of France but with few roads.
It is among the poorest regions in the world, more so than war-ravaged Darfur in western Sudan. And it is facing a famine, the United Nations has said.
"There are a lot of obstacles, of course," Deng said. "Political problems, social problems, including illiteracy and all these issues of inaccessibility all over Southern Sudan."
The Atlanta, Georgia-based Carter Center, which is among international observers for the election, expressed concern last week that "participation" in registering in Sudan has been "uneven."
"Many states appear to lag behind in meeting registration targets," it said in a November 30 written statement.
However, it also said it commended what it described as "largely peaceful" voter registration, which began on November 1. It was to end at the beginning of December, but the National Election Commission has extended it until Monday, a move The Center Center applauded.
For Deng, getting involved in the registration process was something he needed to do, for his country and for himself.
"All the people in Southern Sudan impact my life directly," he said. "This is where I want to live... I am part of it. So it is not that I can just sit there and think this is nobody's business and not do anything."
He added, "I love staying in the United States... I had everything I needed. But I was not fulfilled because my heart is in Sudan."