WALGAK, Sudan (CNN) -- The children of this dusty village rarely see cars or trucks, but they fashion toy airplanes out of mud with paper propellers that turn in a hot, dry wind. It's what they know.
Here in one of the most isolated spots on Earth, cut off from the outside world and surrounded by increasing violence, the children of Walgak and hundreds of thousands of others in Southern Sudan depend on emergency air drops of food to survive.
This is not the peace they had hoped for.
A rare sense of optimism enveloped Walgak and other southern parts of Sudan after a 2005 treaty ended a 21-year-long north-south civil war that killed 2 million people and forced about 4 million others from their homes.
Yet high-ranking Western officials say an increase in tribal violence, pervasive hunger, lack of development and interference from the Khartoum central government in northern Sudan could cast autonomous Southern Sudan into free-fall even as southerners prepare to vote in January 2011 on whether to become an independent nation.
They say violent tribal rivalries could engulf the south and lingering tension with the north could trigger a resumption of the civil war.
The United Nations says more people have been killed in Southern Sudan this year than in the western region of Darfur, where a separate conflict drew international attention, prompted charges of genocide and led the International Criminal Court to indict the Sudanese president for war crimes.
Two attacks in the south in August and September killed more than 250, including 100 women and children. Ethnic violence has displaced nearly 400,000 people in a desolate region already saddled with hunger, disease and isolation.

Video: North-south split in Sudan

Video: Sudan's paradise lost?

Video: Oil brings pollution fears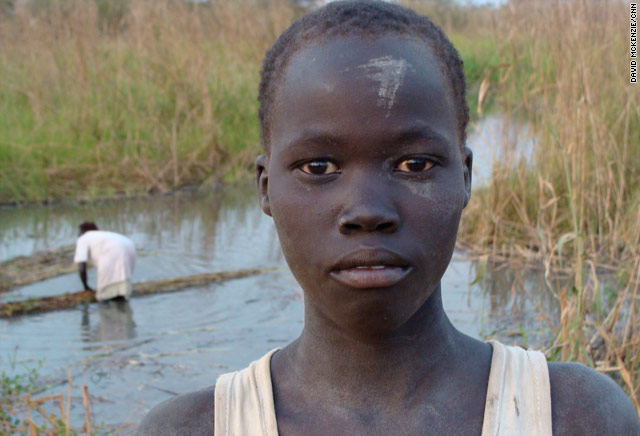 Gallery: Sudan's oil curse
"For us there is no life. There is fighting," said Rebecca Wal, a southerner who recently lost three of her four children to ethnic violence. "People don't care if we live or die."
Nine of 10 people in the southern parts of Sudan live on less than $1 a day, and one in seven women who become pregnant die from complications, said Lise Grande, the United Nations' humanitarian coordinator for Southern Sudan.
It's a place the size of Texas that has only 30 miles of paved roads, a region where 15-year-old girls are more likely to die in childbirth than finish school.
Just this year, famine has left a million southerners dependent on emergency air drops from the World Food Programme.
The misery comes after generations of war.
Complaints that northerners marginalized and oppressed southerners sparked a civil war that ravaged Sudan from 1955, just as British colonists were winding down their rule, to 1972.
Fighting that raged again from 1983 to 2005 pitted black Africans in the south who follow Christianity or traditional African religions against a northern government dominated by Arab Muslims.
Both sides signed a peace deal in January 2005 that ended the carnage of civil war and gave the south autonomy even as a separate spasm of killing and rape engulfed Darfur.
Yet that fragile peace may be unraveling.

Video: Sudanese ambassador speaks out
Some southerners blame their former enemies in the north for instigating violence in Southern Sudan. As the south plans to participate in national elections in April, many southerners say the north has hindered access to registration materials, logistical support and voter education.
The north denies those charges, but they're among the reasons that analysts worry about an outbreak of north-south violence in a region already buckling under the weight of corruption, cattle rustling and revenge attacks.
That, coupled with the fragility of the 2005 peace agreement, is why many long-time Sudan watchers and experts fear the country may be slipping toward war.
"A third civil war is very possible," said David Gressley, the United Nations' regional coordinator for Southern Sudan, if the key issues of oil, credible elections and north-south border demarcation aren't resolved.
A recent study documented an "accelerating" flow of weapons to the military forces of both the north and south. The study was published by the Small Arms Survey, a research project at the Graduate Institute of International and Development Studies in Geneva, Switzerland.
Disputes about oil fields and contested boundaries also could trigger conflict. In March 2008, for example, southern forces clashed with northern troops around the disputed oil-rich city of Abyei. That fighting "resulted in the destruction" of the town "and the displacement of between 30,000 and 50,000 people," the U.N. secretary-general said in a statement at the time.
Even if the south manages to avoid more violence between southern tribes or a resumption of war with the north, a vote in favor of independence in 2011 could pose profound problems.
Most southerners were too busy fighting or running for their lives for much of the past two decades to worry much about creating the institutions of a government necessary for a successful state, Grande said.
"We are literally looking at the construction of a state from the ground up," she said. "This is a project that takes decades."
Maj. Gen. Gier Chuang Aluong, the south's minister of internal affairs, acknowledged that the problems are daunting.
"We have been at war for 21 years. The focus was only to fight the war. We have not been focusing on management, leadership training so you can actually establish good governance" he said.
"Every country in the world has passed through this process," he said. "The corruption, the insecurity, it is the process that everyone must pass through -- especially coming from a war background."
Many southerners say they favor independence. They speak of creating a "new Sudan" as a solution to what they describe as a history of being marginalized and oppressed. Unity with the northern-based government remains an option, though Aluong has suspicions about it.
"Unity is never attractive, but at the end of the day, it will not be the leadership -- it will not be the government -- that will determine whether the Southern Sudanese will vote for unity or vote for separation," he said. "It will be a decision that is going to be taken by individual Southern Sudanese."