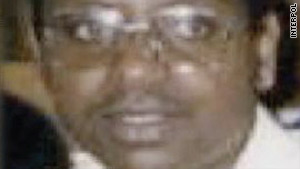 Emmanuel Uwayezu was working as a clergyman when he was arrested in Italy.
STORY HIGHLIGHTS
Emmanuel Uwayezu arrested by police in Italy
Uwayezu denied any role in Rwanda genocide
Clergyman fled to Italy and worked at a church near Florence after masscres
(CNN) -- Against the chilling scale of the Rwandan genocide, the events that unfolded on May 7, 1994, at the Kibeho College of Arts appear as a blip of horror.
Eighty Tutsi students perished at the hands of their teachers, fellow students and security forces. They died that day, according to the Rwandan government, because of the groundwork laid by one man: Emmanuel Uwayezu.
That he was an educator and a priest made the act that much more inhuman to his accusers.
He took refuge in his Catholicism and practiced as a priest in Italy, undetected for a dozen years, until October, when he was arrested by Interpol. His fate remains unknown -- it's unclear whether the Rwandan government will successfully extradite him for trial.
If it does, Uwayezu, 47, could still walk out of jail a free man, like Hormisdas Nsengimana, another Catholic priest accused of murder, extermination and crimes against humanity, but against whom an international tribunal could not find enough evidence.
Uwayezu maintains his innocence, telling the Italian news agency ANSA on his arrest that he welcomed a trial that would establish the facts.
"I took no part in genocide," the Hutu clergyman said.
Instead, he said, he tried to save the young people who were massacred.
But that's not how the Rwandan government or the human rights activists view history.
Since the late 1970s, villagers in the southern Rwandan town of Kibeho had spoken of apparitions of the Virgin Mary near a soccer field among lush rolling hills. The virgin, they said, predicted that the green of the landscape would turn crimson one day. Kibeho's legend became the lore of the genocide to come.
When Kibeho's season of horror unfolded in 1994, Uwayezu had been headmaster at the Groupe Scolaire Marie Mercie school for two years.
I took no part in genocide
-- Emmanuel Uwayezu
Over 100 days, an estimated 800,000 Tutsis and moderate Hutus were killed, the United Nations and Interpol have said. Millions more were raped and disfigured, and nearly an entire generation of children was orphaned.
The Rwandan government alleges that Uwayezu sowed the seeds for ethnic hatred at the school by blaming the nation's troubles on the "inyenzi," a term meaning cockroach, used by Hutu extremists to describe Tutsis. The government says the priest then alerted security forces, trapped the students and organized their killing at the nearby College of Arts on May 7, 1994.
African Rights, a human rights organization that researches the genocide, has been interviewing both survivors and perpetrators of the school massacre. This is what some said:
The massacre began at 10 in the morning.
The students tried to protect themselves, but the militiamen broke down doors with their guns and ordered them to assemble on the basketball court. Some jumped through windows to escape, but one militiaman recalled how they chased them down.
Melanie was in the dining hall, where she had gone with others "to pray."
"I closed my eyes, hoping it would help to hide me. As I sat there, they killed and killed my friends. I saw them dragging the bodies of the dead students to bury them."
Melanie escaped and hid in surrounding fields.
Maurice locked himself in a toilet. He could hear the sound of blows to human flesh; he could see the flow of blood.
Then they got him. They stripped him naked and shoved him into a hole in the ground. His feet landed on shards of glass. A militiaman shot him in his right thigh. His attackers heaped dirt on him and left him for dead.
They tossed bodies of the dead on top of Maurice.
"I could not move, not at all," he told his interviewers. "I felt I was being asphyxiated to death. I said my last prayer, as I really believed it was the end of me. I told God that if he wanted me to die like that, of course I would. But I also asked God to use his infinite powers to save me."
Maurice was able to climb out of the hole. And survive.
Surviving was easy compared with living with memories of genocide, said Rakiya Omar, director of African Rights. What matters for the students and their families now, she said, is justice for those who unleashed the bullets and machetes.
That's why Uwayezu's arrest, though not as high-profile as that of senior officials, is significant, Omar said.
"For the people of Kibeho, Uwayezu was very important," she said. "It's extremely disturbing -- the role of teachers. It's a country where people have such respect for authority, and teachers and priests commanded enormous authority."
So far, four Catholic priests have been indicted by the U.N. International Criminal Tribunal for Rwanda. Human rights activists say the small number of indictments do not accurately represent the church's role in the genocide.
By failing to issue swift condemnation, the church opened the door for slaughter in the name of God, according to the global group Human Rights Watch.
"Some clergy who might have been able to save lives refused to even try to do so," the group said in a report on the genocide.
Uwayezu fled Rwanda and began a new life in Italy in 1997. He became known as Don Emmanuel, working as a vicar in Empoli, a town near Florence.
But the Hutu priest was given away after Interpol's fugitives unit received information and photographs about him from Rwandan authorities. His arrest occurred with little fanfare, though it was a moment that many Rwandans had awaited.
One of them was Vedasta Habimana, who 15 years ago was a prefect at Uwayezu's school. He escaped several days before the massacre, when word got out that the militias were coming, heavy rains drowning his footsteps.
Today, Habimana works for the government in the same district where the school was. His memories follow him through Kibeho -- of those whose lives were brutally cut short, and those who are responsible.
Journalist Ignatius Ssuuna in Kigali, Rwanda, contributed to this report.